About Spinel Sun - nicknamed Suppi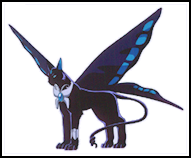 Spinel Sun is a magical creature created by Eriol to guard and protect him, he has the true form of a dark and beautiful winged panther. That true form is for battle and grand occasions, for everyday life: Spinel has the "false' form of a creature that should look like black cat if you don't look at the light blue wings, the curly tail and the fact this little cute furball hovers around the house, can fly and throw pink fireballs!
Spinel is nicknamed Suppi by his 'big sister' Nakuru, who likes to tease him. He is polite, gentle, educated and wise with a passion for reading ancient magical manuscripts... But feed him sugar and he turns into a even cuter crazy bundle of mischief with one thing on the brain: more sweeties!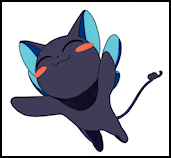 He appears all throughout the third season of Cardcaptor Sakura.
The best episode for Suppi fans probably must be
Episode 56: Sakura, Kero & a candy date?!
in which he goes absolutely bonkers and offers us some extremely cute scenes.
He appears in various other short (too short) moments from then on:
In Episode 69, as Spinel Sun he battles Keroberos (his alter ego, another guardian like him) during Sakura's final battle.
In Episode 70, the two guardians make peace and ram cakes down eachother's throats.
In the second movie, we find out that Kero & Suppi have kept up their rivalry: this time in computer games!
The Omake (extra)
at the end of the film is a mini episode starring Suppi & Kero on a wacky adventure trying to catch a Takoyaki (fried octopus ball). It's very hyper, wacky and cute!
Please go to my
main
website for more:
- Third season and Movie 2 Omake screencaptures
- Suppi & Kero galleries, games & adoptions
Suppi/Spinel is copyright to Clamp, Kodansha, NHK, Bandai, Nelvana.