Saffy's Doll Restoration Pages

Hi, I'm Saffy!
I love restoring damaged dolls and customizing them.
You can find me on
Flickr
,
Tumblr
,
Dollymarket
and of course
Ebay
.
I prefer to be contacted via email: saffykins [AT] suppi (dot) net for commissions and trades.
More doll related stuff:
I keep a
spreadsheet of Saran hair colours
by reseller websites (now updated with pictures by Missy Mercurial!) and
Bratz hair colour matches
.
There's also a near complete
gallery of Bratz 2001-09 faces
for identifying your doll.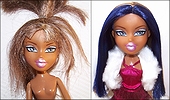 Bratz Links:
Passion Bratz
,
Looking Bratz
,
Passion 4 Bratz
,
Thousand Splendid dolls