Reroot Commission: Princess Jade into Yuki Onna
Back to index
Rerooting of Princess Jade for M*chan in Virgin Snow and Starlight for a shimmering white.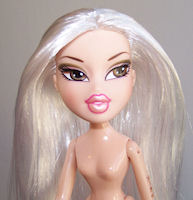 The doll arrives. Time to cut the hair and remove it from the inside of the head
I kept the hair in a bag in case the owner would like it.
The main difficulty was removing the black paint from her scalp without making it too fragile from the chemicals
I used using glue on 3 holes during the reroot, all on the crown: middle and next to the ears had big holes.





Here she is during the reroot, with clips and plaits to hold her hair back.




It took two x MLP Virgin Snow packs + 1 x MLP Starlight pack from dollyhair.com
Her hair is thick and long down to her ankles, it's thatched at the parting but also very slightly grey from black that I wasn't able to srcub out in the parting holes.







These are the pictures M*chan sent me to model the doll on.





Final Results: with flash, in late afternoon daylight and compared to Pouty Princess Cloe who's hair is white too.