Galleries
Important Notes:
Direct linking
is disabled. I did not create, nor do I own any of the commercial or fan images, even the ones I scanned:
Card Captor Sakura is copyrighted and owned by Clamp, Kodansha Comics, NHK, NEP21, Magic Studio and Bandai Entertainment.
Tsubasa Reservoir Chronicle is copyrighted and owned by Clamp, NHK and Bee Train Studio. All characters, music, images, and everything that is related to CCS/Tsubasa in this site are owned by their respective owners and companies. All rights reserved.
Please read the
disclaimer and copyright notices
for more
All screencaptures, wallpapers and animations were created by me except when mentioned: Please
credit me
if you use them.
Please also remember to link back to the original fan artists when possible, you can find their links at the bottom of the page.
Have you read the notes above? OK, On to the images!
Card Captor Sakura Galleries
Screencaptures - also available as zip files here
Season I - High Quality! 960x720px
I'm screencapping this bit by bit over the next month.

Ep 01. Sakura and the Mysterious Magic Book

Ep 02. Sakura's Wonderful Friend

Ep 03. Sakura's Heart-throbbing First Date

Ep 04. Sakura's Exhausting Sunday
Movie I

Movie I
Season II + III* - High Quality! 960x720px

Ep 36. Sakura and a Snowy New School Year

Ep 37. Tomoyo loses her voice

Ep 38. Strawberries

Ep 39. Sakura's feverish day

Ep 40. Sakura and the Sakura in the Dream

Ep 41. Sakura and Shaoran practice for the play

Ep 42. Litterary festival in darkness

Ep 43. Meilin's story

Ep 44. Sakura, Kero, and the Mysterious Teacher

Ep 45. The Last Clow Card

Ep 46. The Final Judgment

Ep 47. "A Mysterious New Schoolmate"

Ep 48. "The Key Of Star"

Ep 49. "The Dangerous Piano"

Ep 50. "The Invisible Threads"

Ep 51. "Teddy Frenzy"

Ep 52. "Sakura's Sheep Warning"

Ep 53. "Sakura And The Panicking Bicycle"

Ep 54. "Sakura And A Calendar Of Memories"

Ep 55. "Sakura And Sakura In Wonderland"

Ep 56. "Sakura, Kero, And A Candy Date"

Ep 57. "Sakura, Shaoran, And The Elevator"

Ep 58. "Sakura And The Two Emergencies"

Ep 59. "Sakura, Tomoyo, And The Ball Trap"

Ep 60. "Sakura And Her Precious Friend"

Ep 61. "Sakura, Card, And Present"

Ep 62. "Sakura And The Mysterious Fortune"

Ep 63. "Sakura, The Pool, And The Big Wave"

Ep 64. "Ski School"

Ep 65. "Disappearing Strength"

Ep 66. "The Most Important Person"

Ep 67. "Tsukimine Shrine"

Ep 68. "Sakura, The Past, And Clow Reed"

Ep 69. "Clow Reed Is Back"

Ep 70. "Sakura And Her True Feelings"
Movie II and Video Diaries

Movie II: The Sealed Card (700*300px)

Movie II Kero-chan ni Omakase (640*350px)

OAVs: Tomoyo's Video diaries (702*478px)
* my episode names may be faulty, I watched CCSakura in french!
More:
Anime
: Sakura, Friends, Group images, Movie I and Movie II costumes and images.
Manga
: Artbook I, II and III, Clow and Sakura cards, more manga art
Extra art, Sketches and storyboards
Colouring images
Animated gifs
Animated gifs, Mini gifs and Snowglobes by me
You can read Manga Scanlations including the new 2016 Clear Card Arc online at
Mangafox
,
Mangareader
or
Mangafreak
Fan Art
Fan Art
by
Moonknives
Fan Art by specific artists
¤¤
¤¤Fan Art Credits Warning! Some of the websites linked here may contain disturbing adult art.
Moonknives
,
Goldsickle
,
Rommel Ghost
,
MetalGuppy
,
Koge Donbo
,
Moetan
,
Rachel Young
,
Paco
,
Youkai Yume
,
Flipper
,
Neurose
,
D-Ten
,
Studio Radius
Tsubasa Reservoir Chronicle Galleries
Tsubasa Reservoir Chronicle Images
: Manga, Anime, OVA, Fan Art and Fan Vector Art
Tsubasa Reservoir Chronicle Screencaptures
: also available as zip files
* Season I, Season II, Opening and Ending
* Movie: "The Princess Of The Birdcage Country"
* OVA - Tokyo Revelations
Clamp in Wonderland Galleries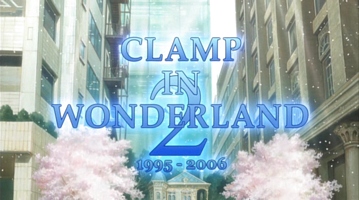 Clamp In Wonderland Screencaptures
Clamp In Wonderland Images