So if you've known me for a while you know i've been experimenting with repurposing faux fur for several years. Partly driven by the desire to not spend 5-6 hours rerooting each bald head that comes my way and the fact that me and glue do not get along.
I have stashes of various faux fur bits that didn't work out from various years in my room and I keep coming across them and adding them either to the $1 pile or the the "just pay postage" box. Now most of the short pile wigs were made from hand muffs, scarves and hats but it's really hard to tell how long and how thick a fur is going to be when you're not buying in person. "Same item, same seller" doesn't equal same thickness or pile: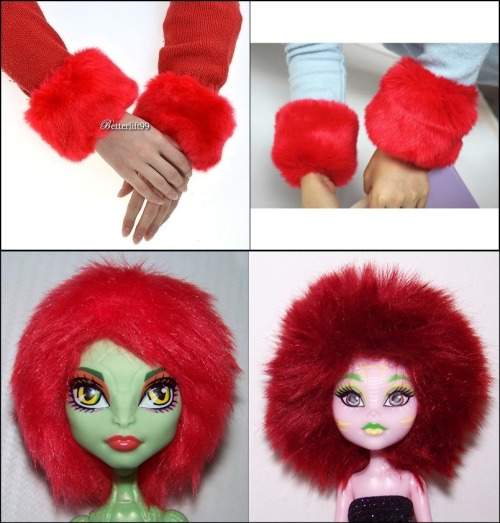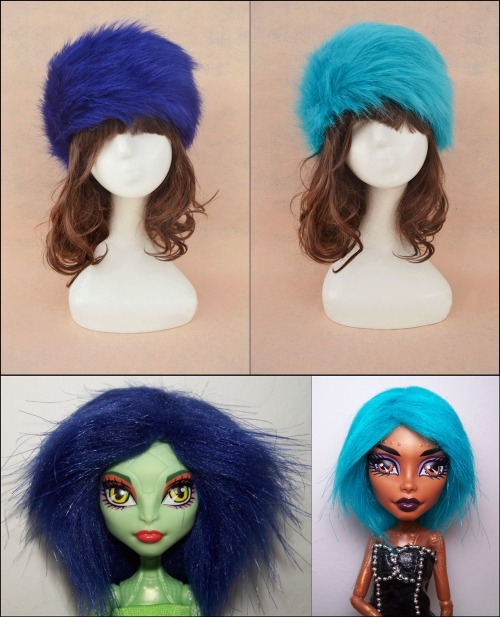 Anyway…. on to these four hats bought in a late summer sale 2016 that I'd carefully stored away (aka LOST) in a big ziplock bag under my bed. I made a MH/Bratz size wig and it was way too big, picked it apart and tried other things before remembering the ear muffs tuned into pale blue boleros from two weeks ago that were too thin for anything else: SCALE Matters!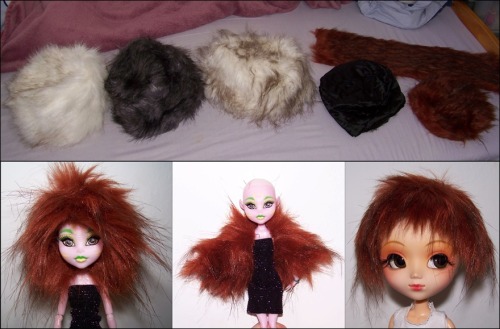 I ended up finangling my own pattern [which you are welcome to use, I can send cardboard cutouts for the price of a stamp – this includes all my wig patterns because I have zero clue on how to digitize patterns in a way that would actually print at the proper size because the tutorials I've read are for adobe products or trying to sell digitizing software]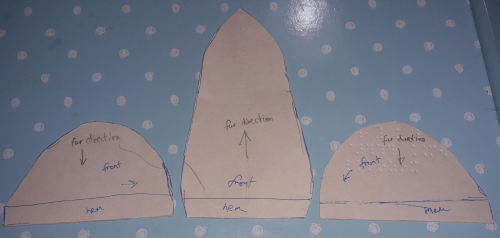 and I made these wigs (modelled by the lovely Pullip Papin – lips repaired + pink added to her general tone by Myufish, on a fantastically sturdy Liv body with a carved neck + homemade plastic washer. I love this hybrid so much.)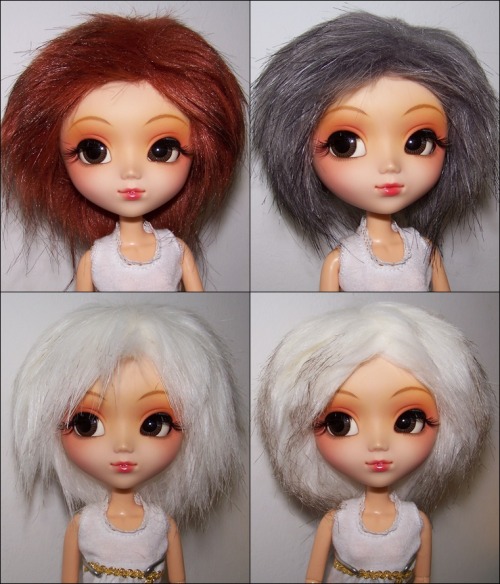 Working on earrings today with my "tiny treasures" collected from the under $1 ebay auctions over the years. I'm using plastic earring backings that can be bought for a dollar for a 100 and gluing 4-6mm flatbacks and findings to them with e6000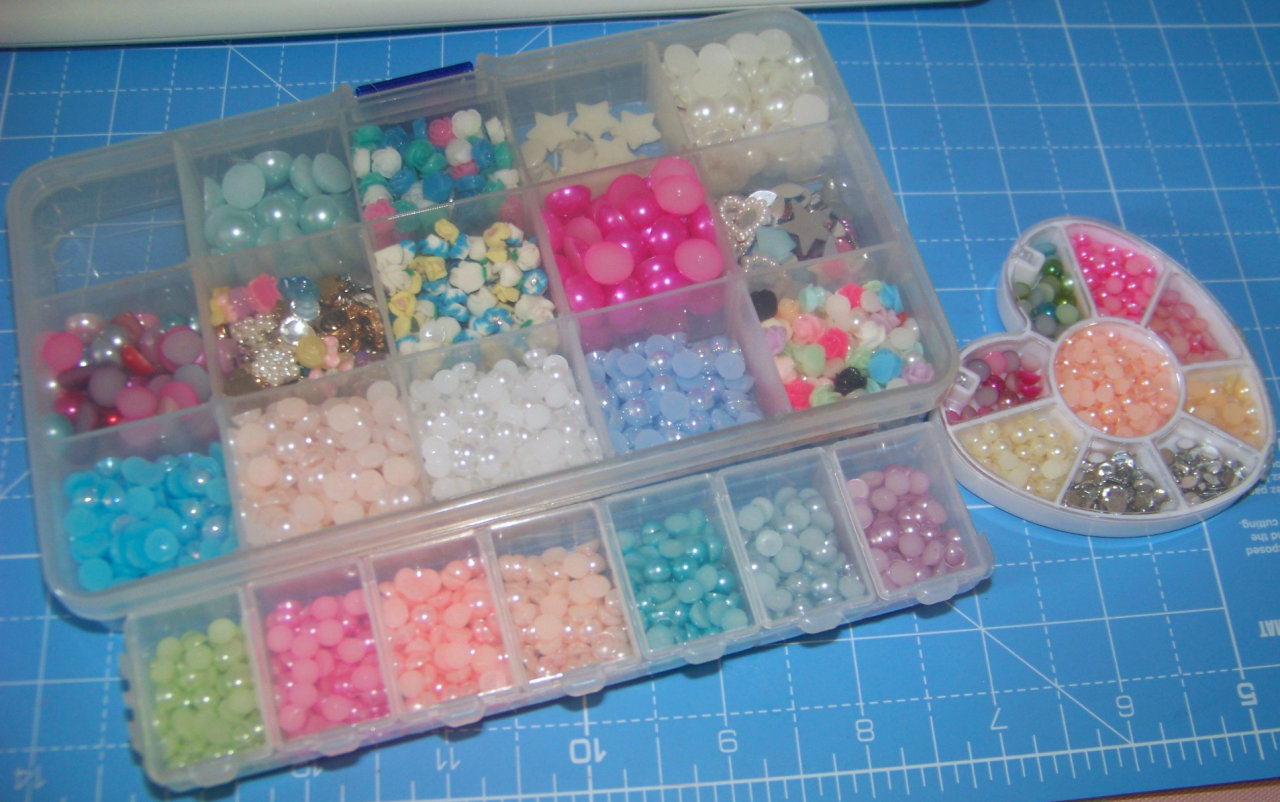 The fruit  earrings are made from slices of fimo canes cut with a craft knife to about 1mm – not the precut nail art because while that's perfect for nails it's too flimsy for doll earrings.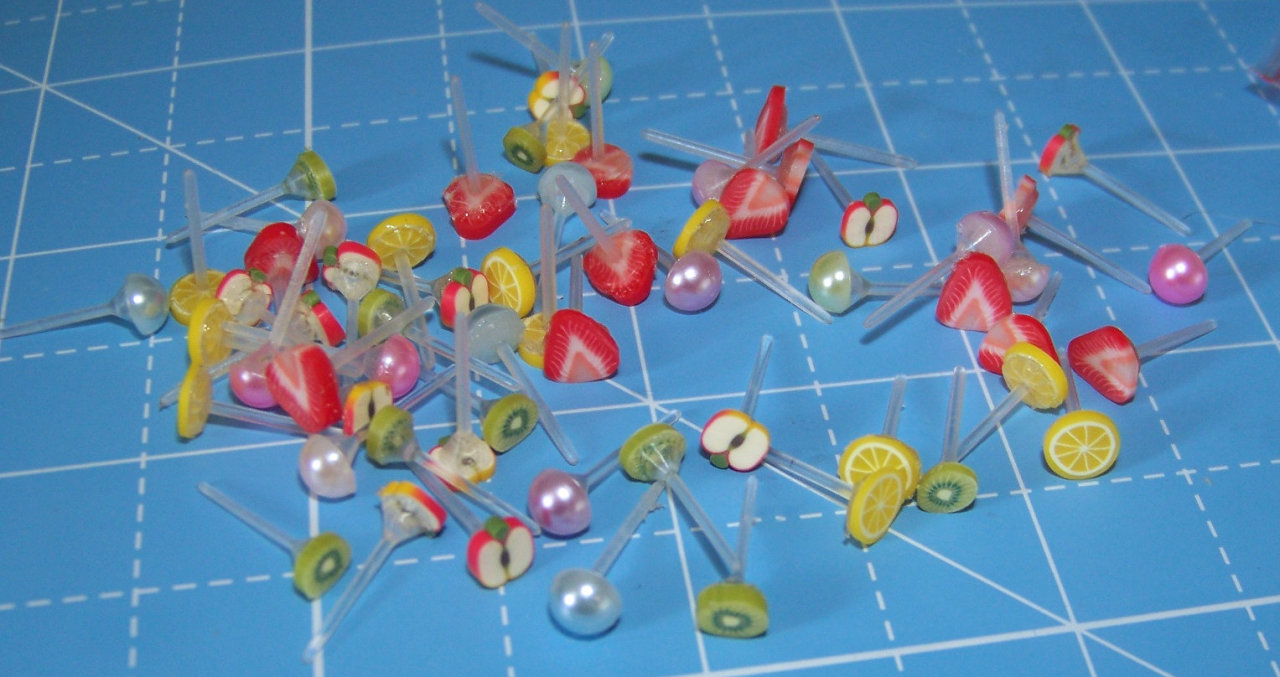 You can cut the stems to size or add silicone backings to secure them to your doll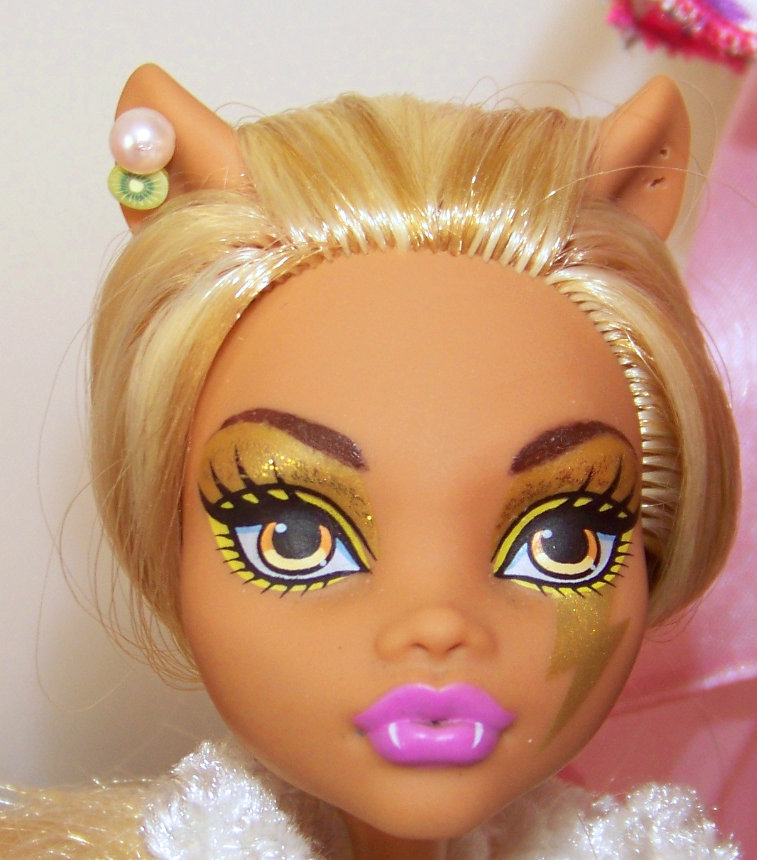 This is 80's – early 90's Steffi by Simba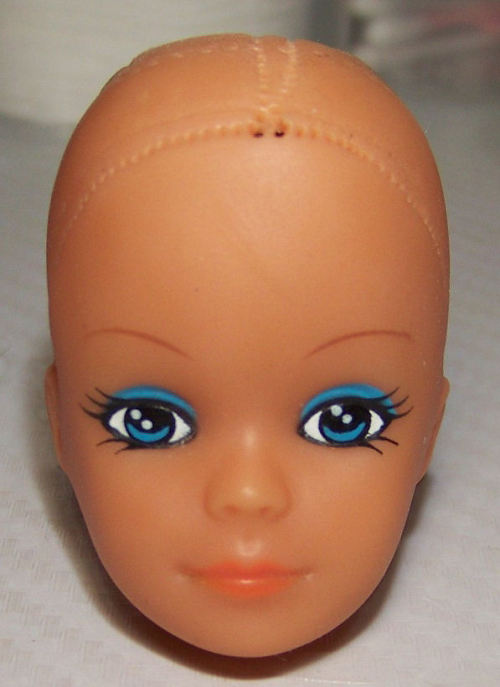 Like many Simba fashion dolls she comes on a body with a large spherical neck knob like this: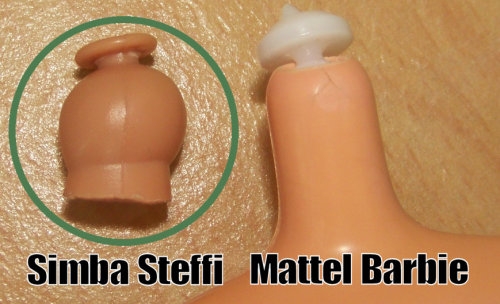 Which means that when you rebody her on standard fashion doll bodies modelled on Barbie, her head is too low down on the neck: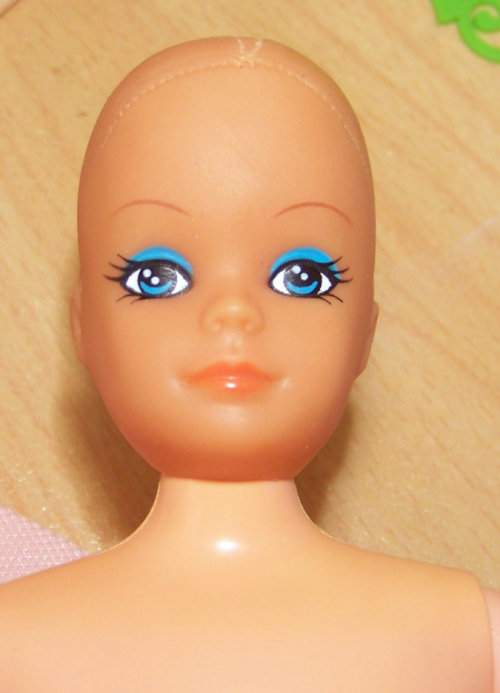 Enter Fakie who's neck fits but who has terrible face paint, we're going to cut out her neck with a craft knife and whittle that down until it fits in Steffi's neck hole.
Here's neckless Fakie and her whittled down neckhole fitting neatly on Barbie's neckpeg: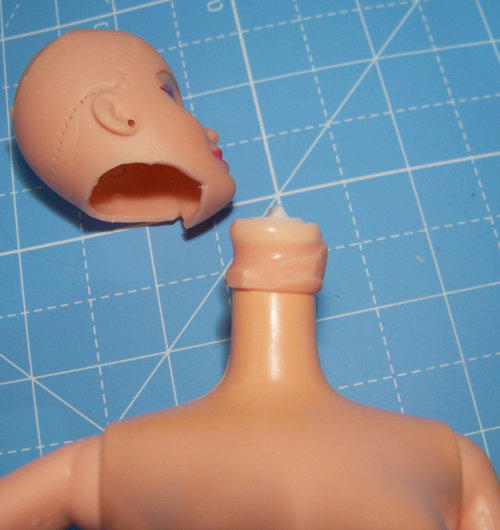 Now using tweezers or a toothpick to push down the sides we insert the fakie neckhole into the Steffi neckhole –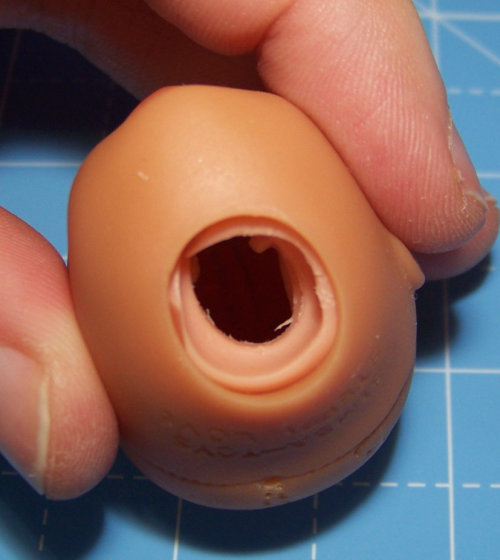 Ta da! As you can see, it holds well but you can glue it if you want it to be a permanent fix.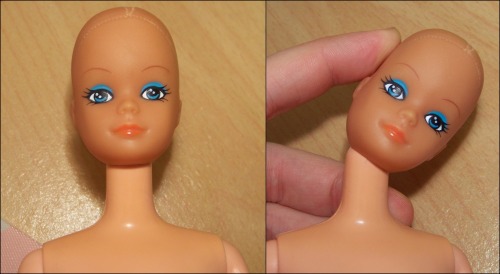 And here's another fakie with a smaller neck grafted into Midnight Magic so she can fit on a monster high body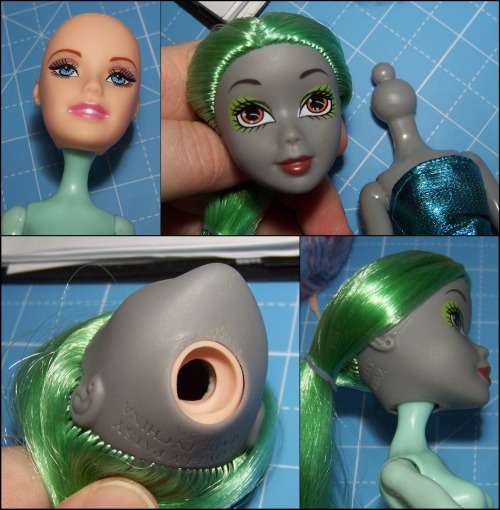 * boil the head to make the holes smaller
* glue the head split with superglue and avoid it during the reroot
* optional: add a thin layer of e6000 to the inside of the scalp for extra heft
* stuff the head with foam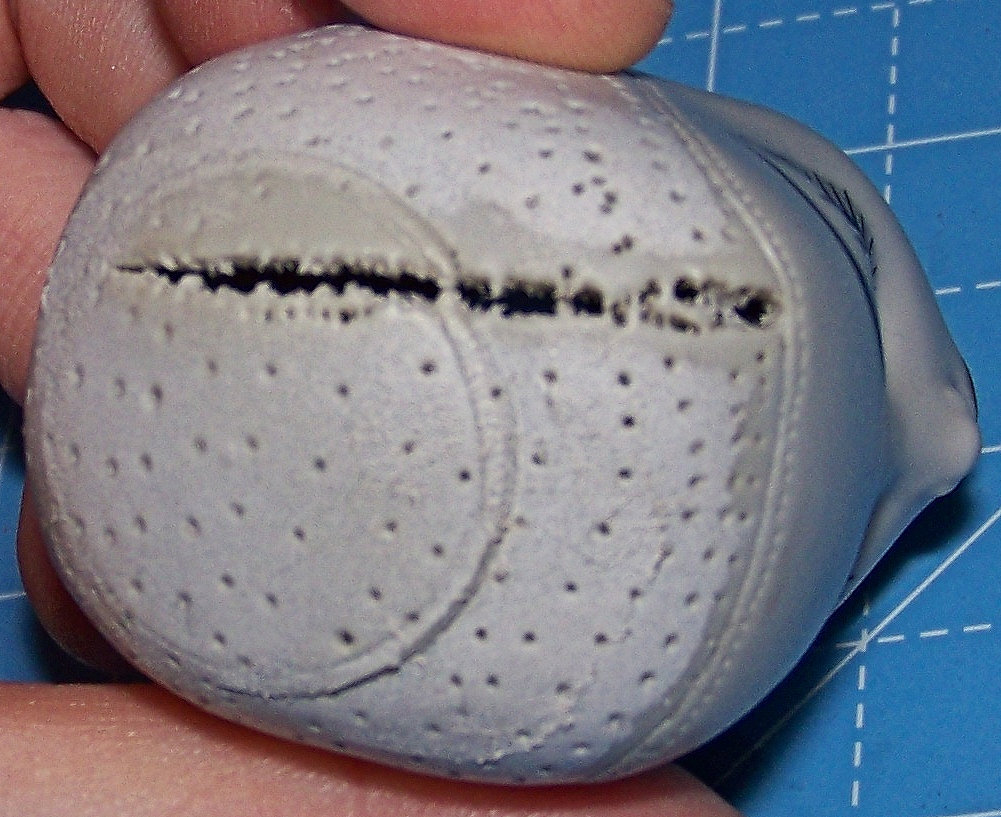 This foam was left over from a nail buffer block. I cut off thin slices, rolled them and stuffed them into the head carefully with hemostats until the head was completely full – it took all but 1cm of the foam!
The idea is to keep the head split from reopening by making sure that the head doesn't bend during a tension reroot.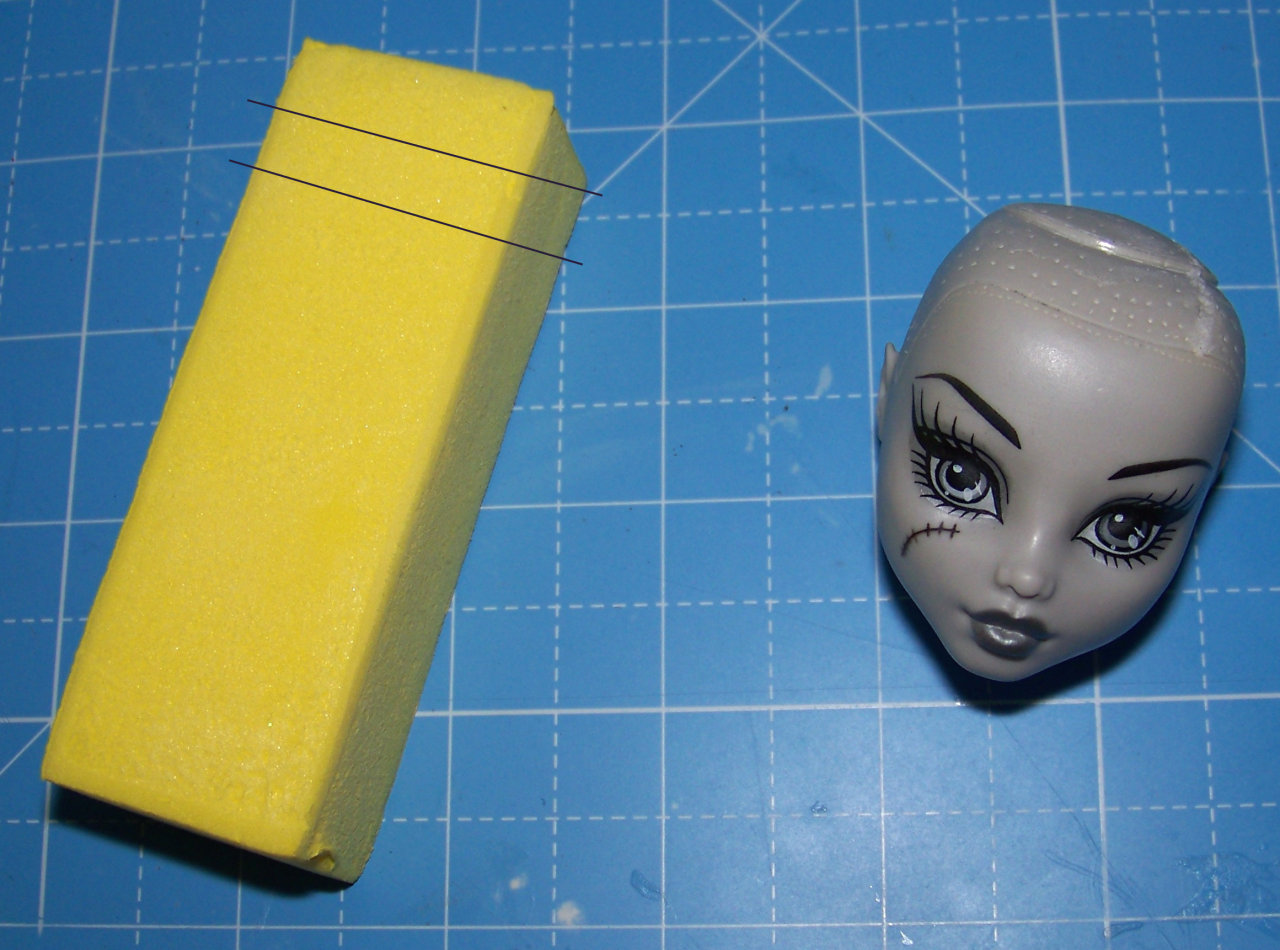 When the reroot is finished, I'll gently pull out the foam and put in more glue than usual so that the head doesn't split open when the hair is brushed or the head squished.
I've done this before with clone or vintage dolls with super thin vinyl that threatens to tear and will keep you posted on this greyscale lady.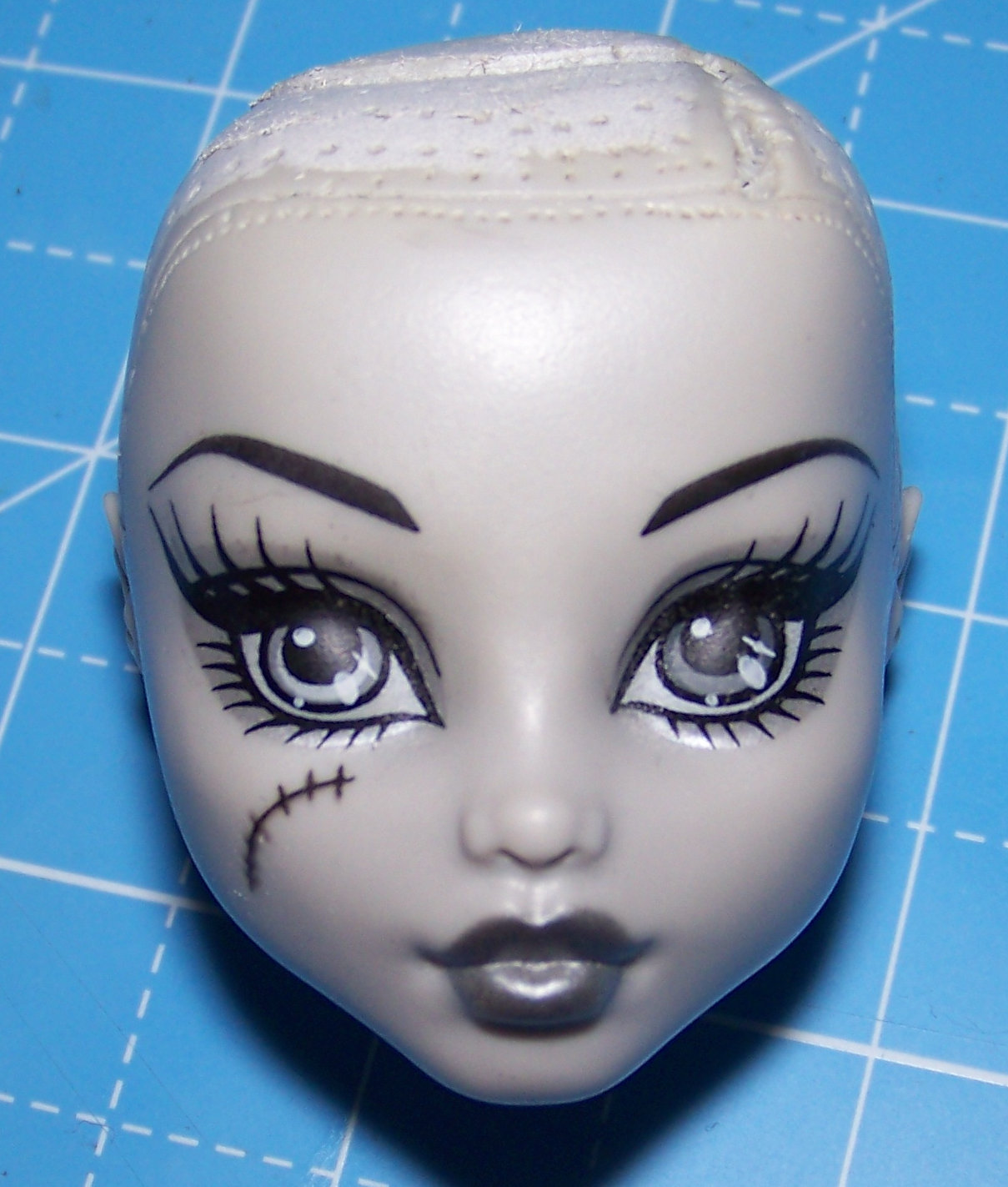 Review of "Adjustable Doll/Bear Stand Display Holder 8.7-13.4? on ebay for 1.60$ free shipping.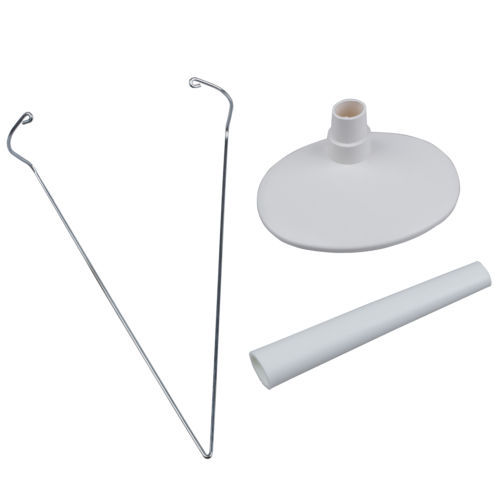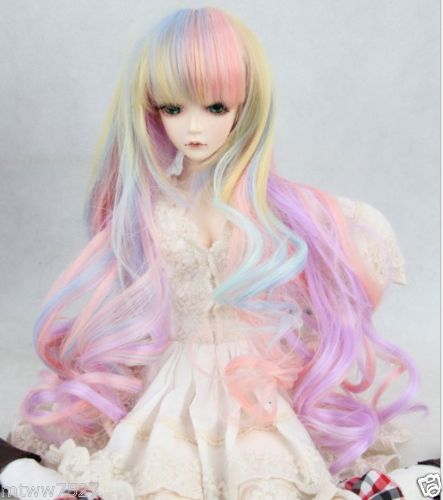 BJD wig 8-9? colorful SD long waves: £6 (approx $8) from ebay, no brand mentioned in the listing but a fabric label in the wig cap says "FBE-BJD". Took three weeks to arrive. I was apprehensive. Wigs are so different from brand to brand and from type to type! I assumed there was probably something wrong with the wig to get such a nice price but now I think they forgot to adjust their UK prices post Brexit and overestimated demand for their auctions.
I was surprised at how accurate the photo was because the colours are vibrant. The hair fibre is fine, silky, light: I'm guessing that it's toyokalon. Very impressed at the hair coverage, maybe it's because there are lots of different colours but it's hard to find a bald patch.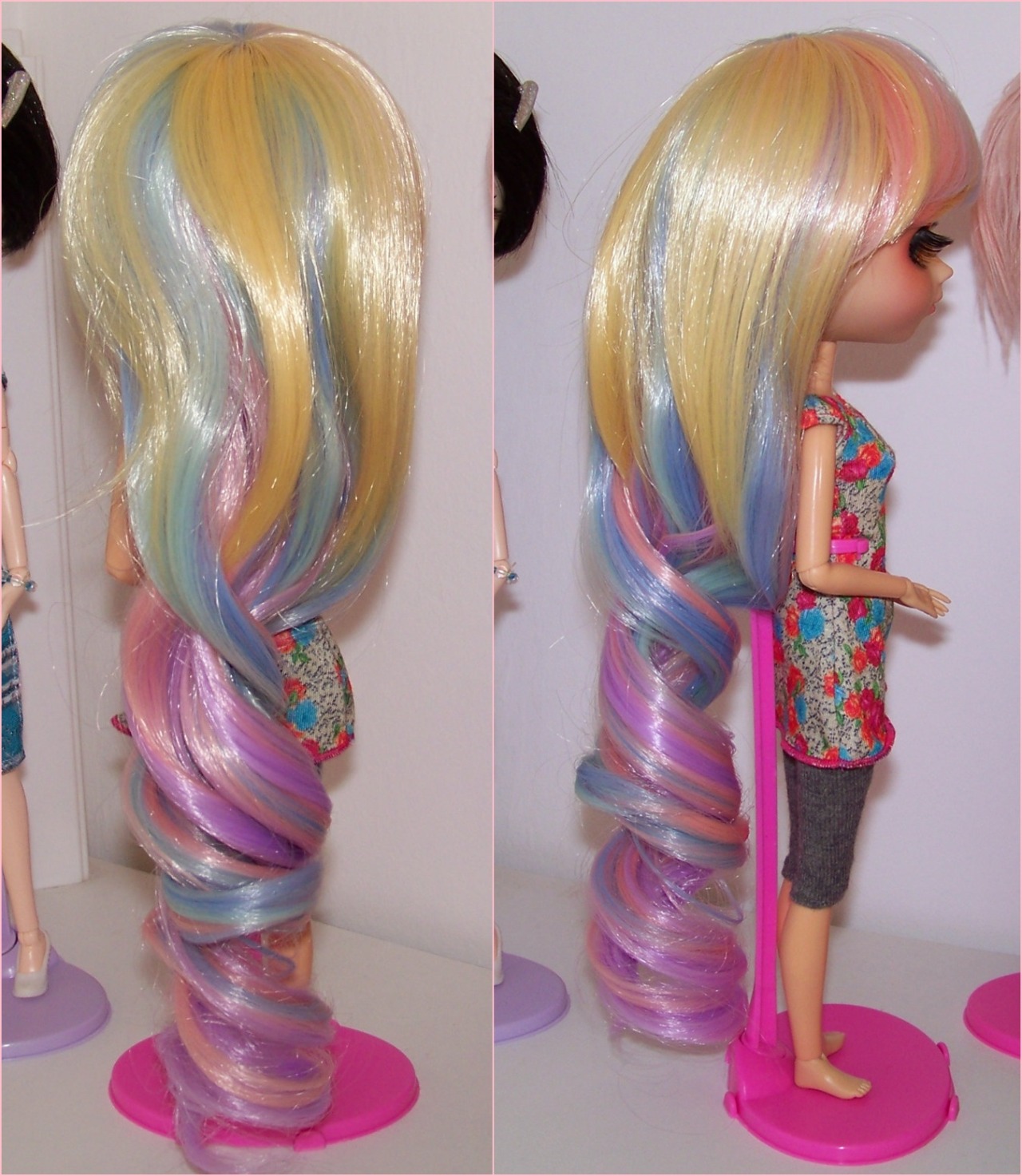 The wig is too tight for a Pullip head with an eye mechanism unless you carefully unpick some of the stiches in the elastic while making sure they're not attached to any wefts.
It's way too heavy for a Pullip head even on a sturdy Liv body so I flat ironed it at 130°C and chopped at hip length 2cm below where the yellow hair tapers off (all of the hair is razor cut layered).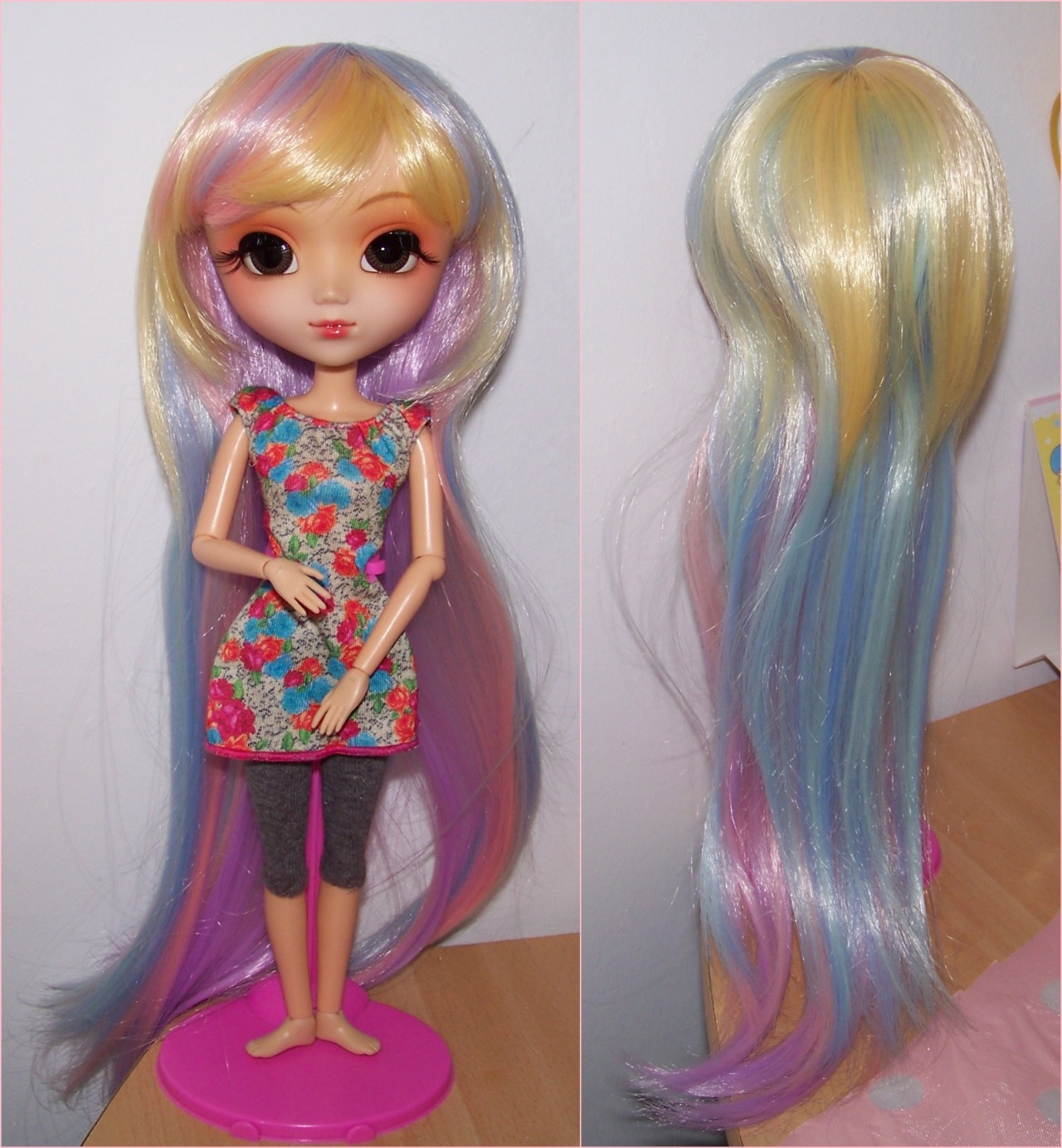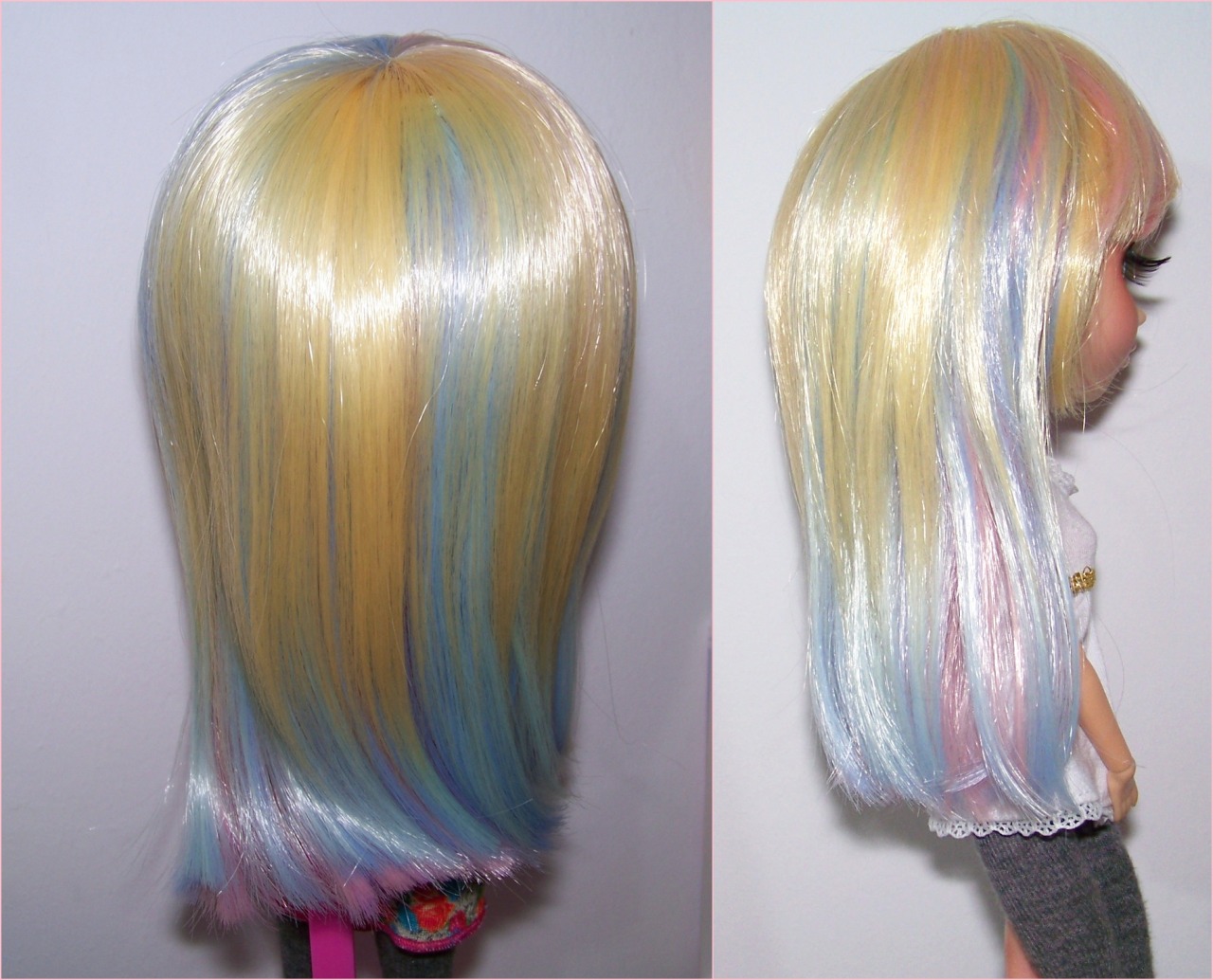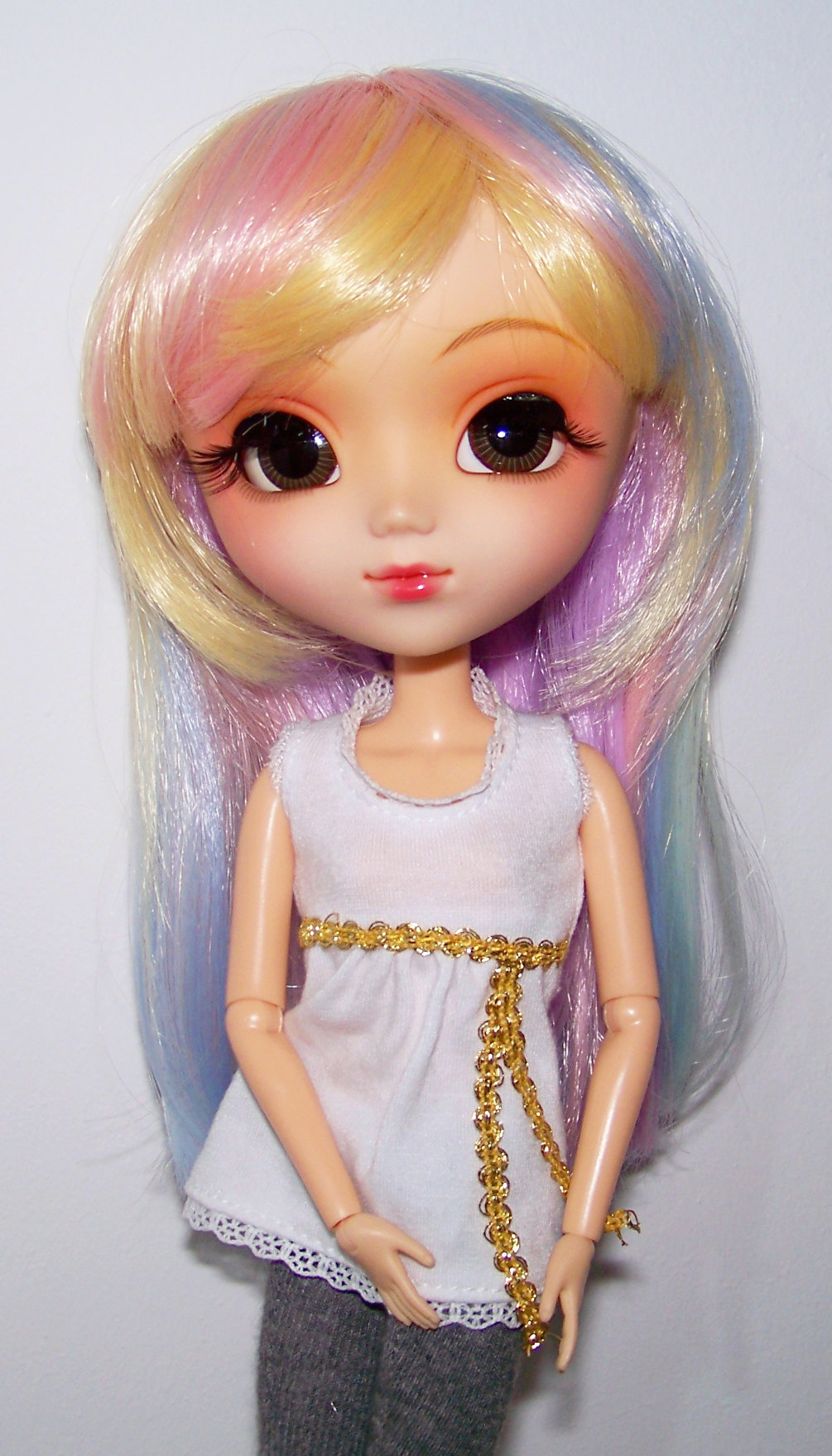 How to make a pastel rainbow Licca!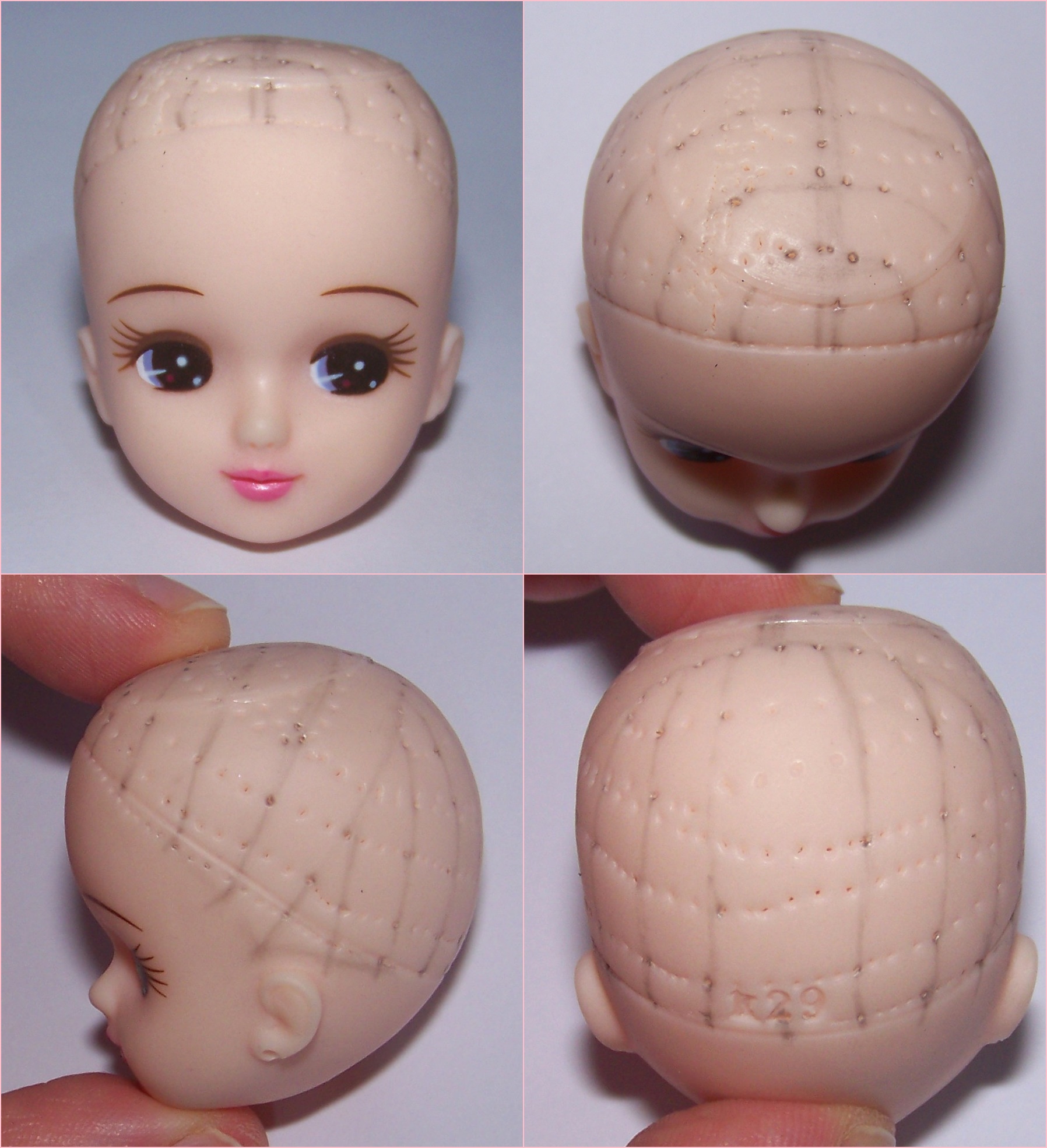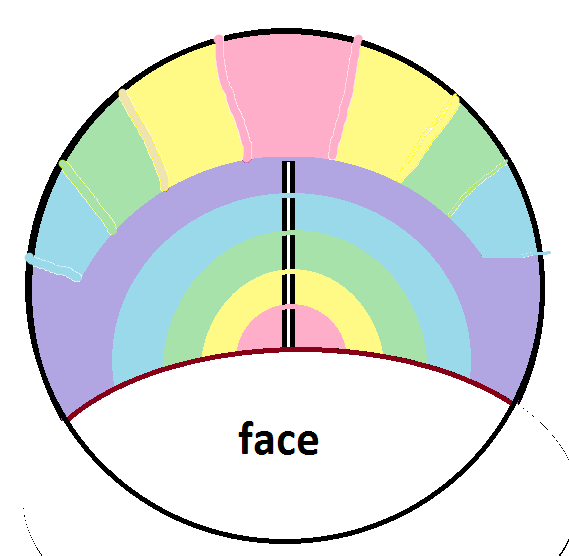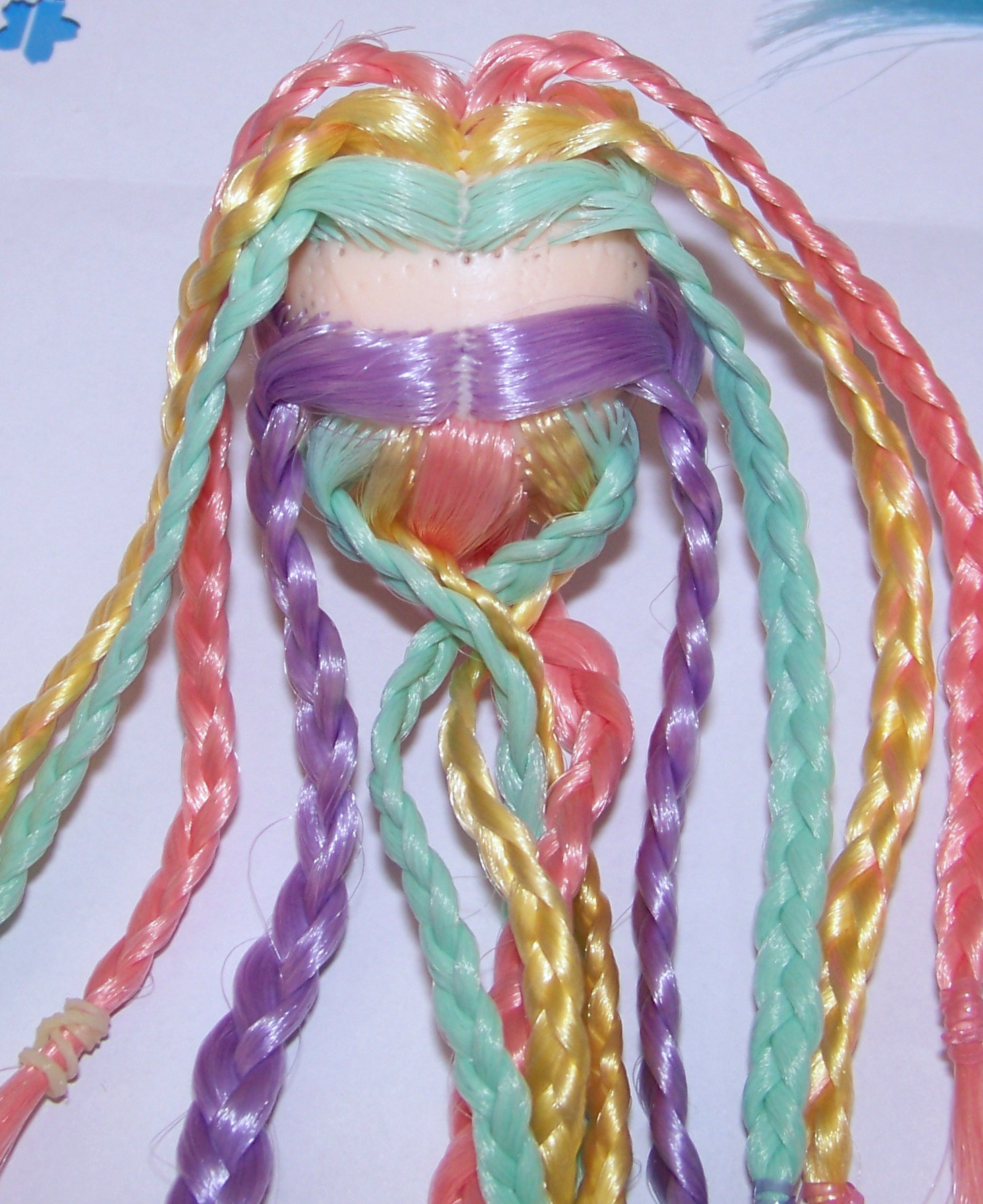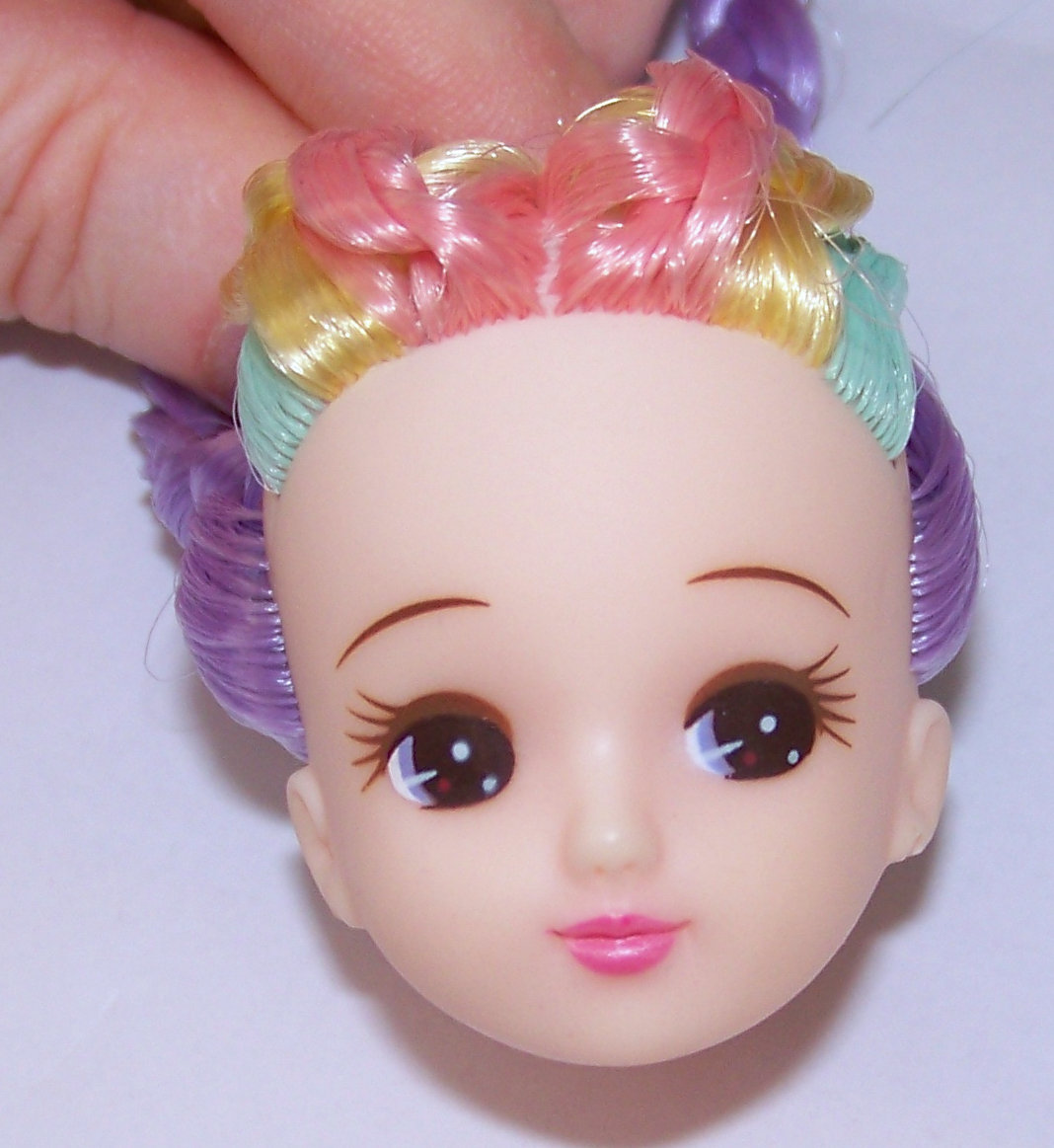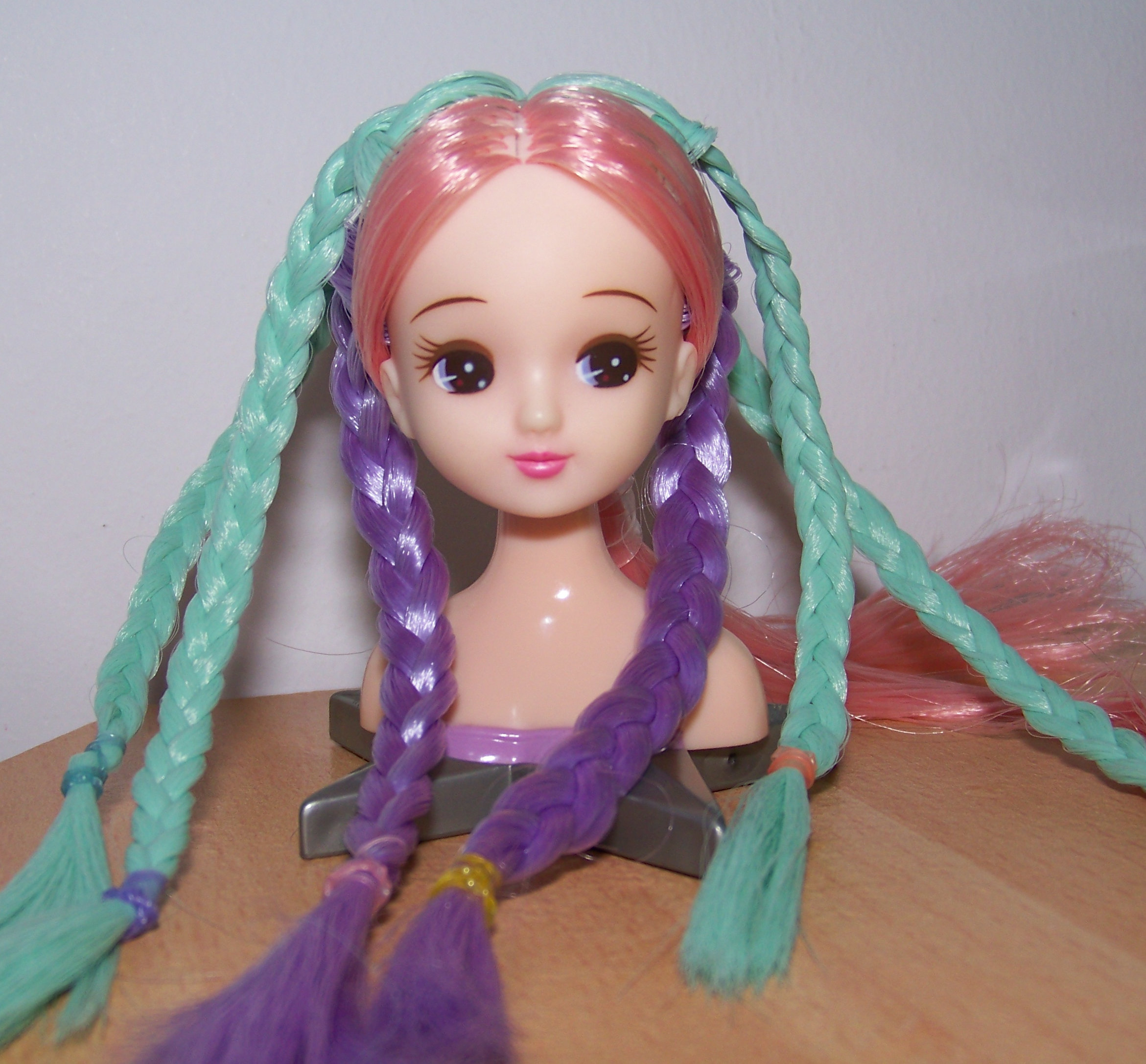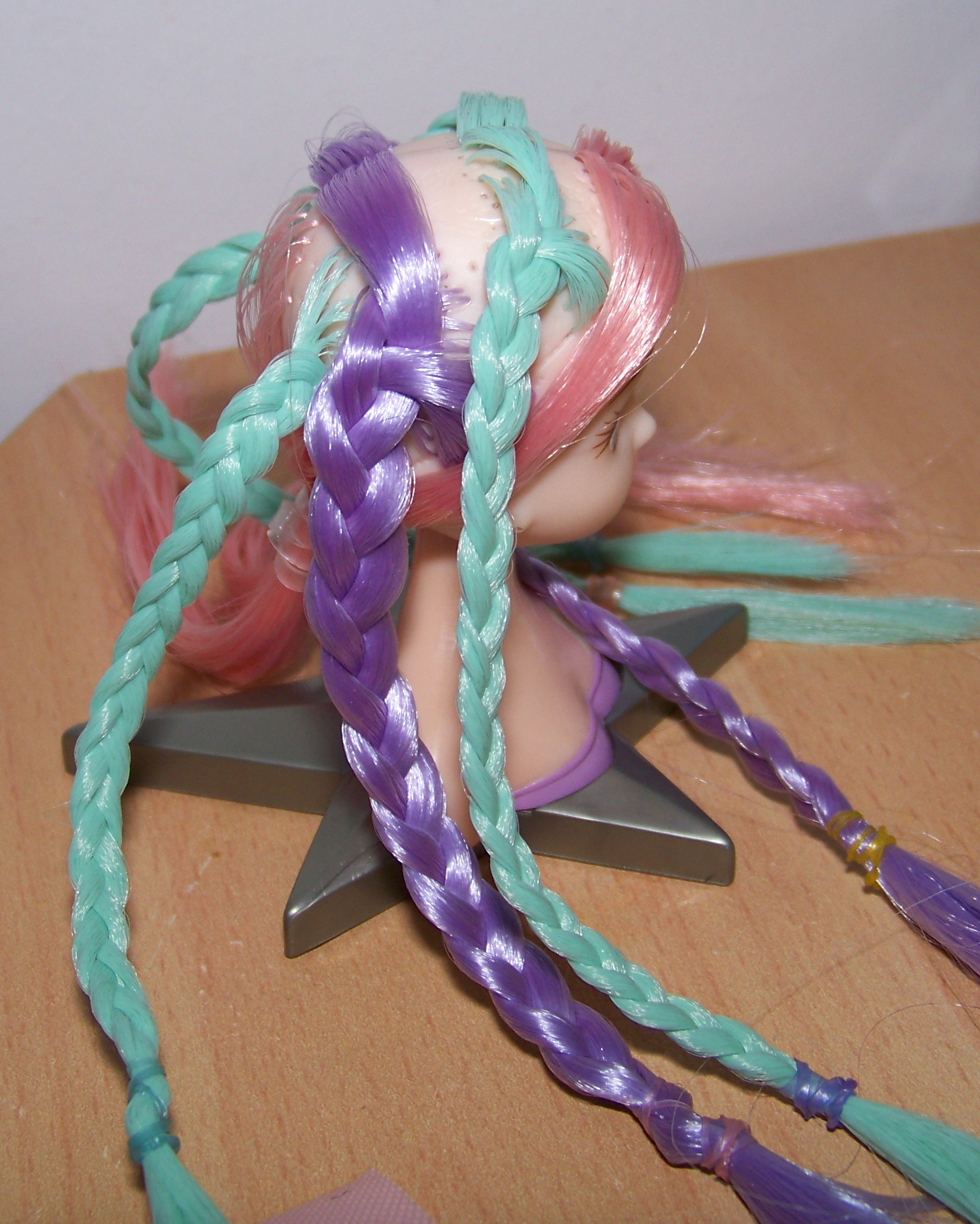 Here are the measurements if you'd like to make your own.
(This will work with castle/new gen Licca heads with a slight redraw of the front line of hair for a more modern hairline. See side picture of the bald head.)
10 bands at the front: 6mm each
10 bands at the back: 5mm each
5 bands across the 3cm parting: 6mm each
So far each colour band (front + back) has taken me 1h30 with the tool method.
The pencil rubs off during the reroot so I recommend doing alternate bands of colour.
The fuzzy no-flash collage is the closest colour match to the real thing: pastel yellow, lavender, a peachy pink and minty/seafoam green.
She's not as pastel as I'd hoped to make her (the client wanted true pastels but that would mean purchasing 5 different nylon packs including some from the USA) because saran doesn't have a pale blue that isn't very green. I tried to dilute the "teal" blue but the blends looked very grey against all these full colours. So instead I darkened the mint with some seafoam so it was approximately the same darkness as the rest.
I'm torn between loving it and hating that it's not right.
The stripe design worked out great with triple rainbows at the pigtails and options for lots of different hairstyles that show the single or double rainbow. Very very pleased with that! I can see it working with a gradient reroot such as red, celtic red (tomato soup), orange, yellow, golden blonde…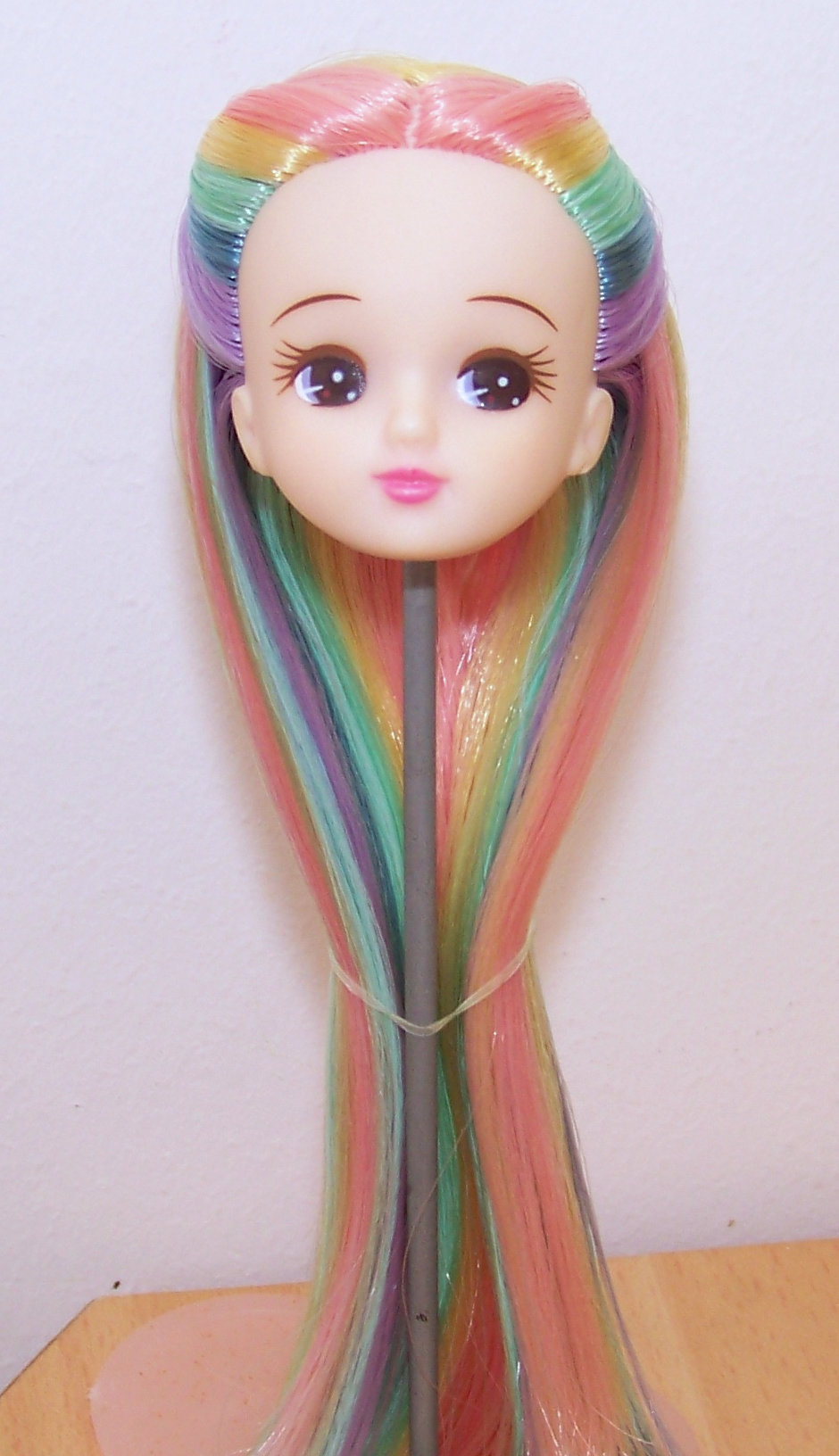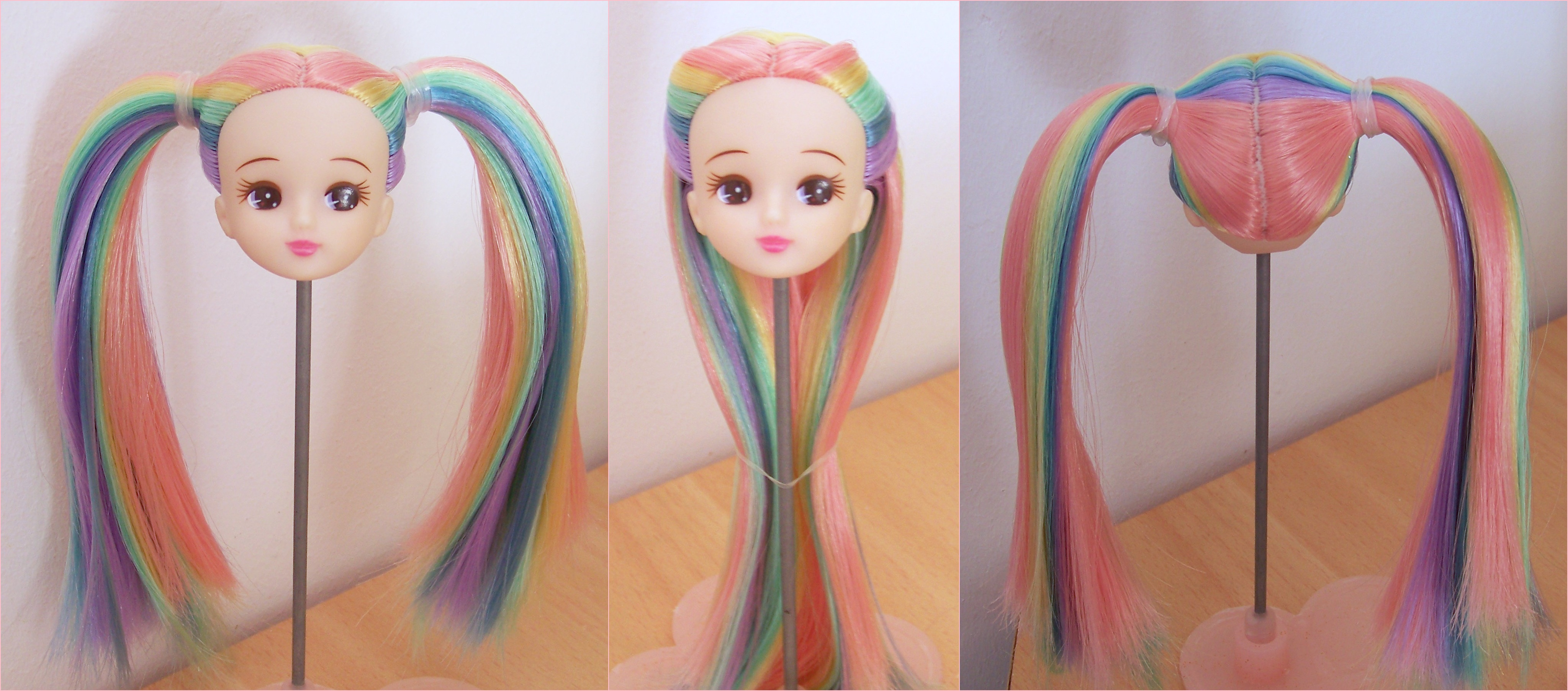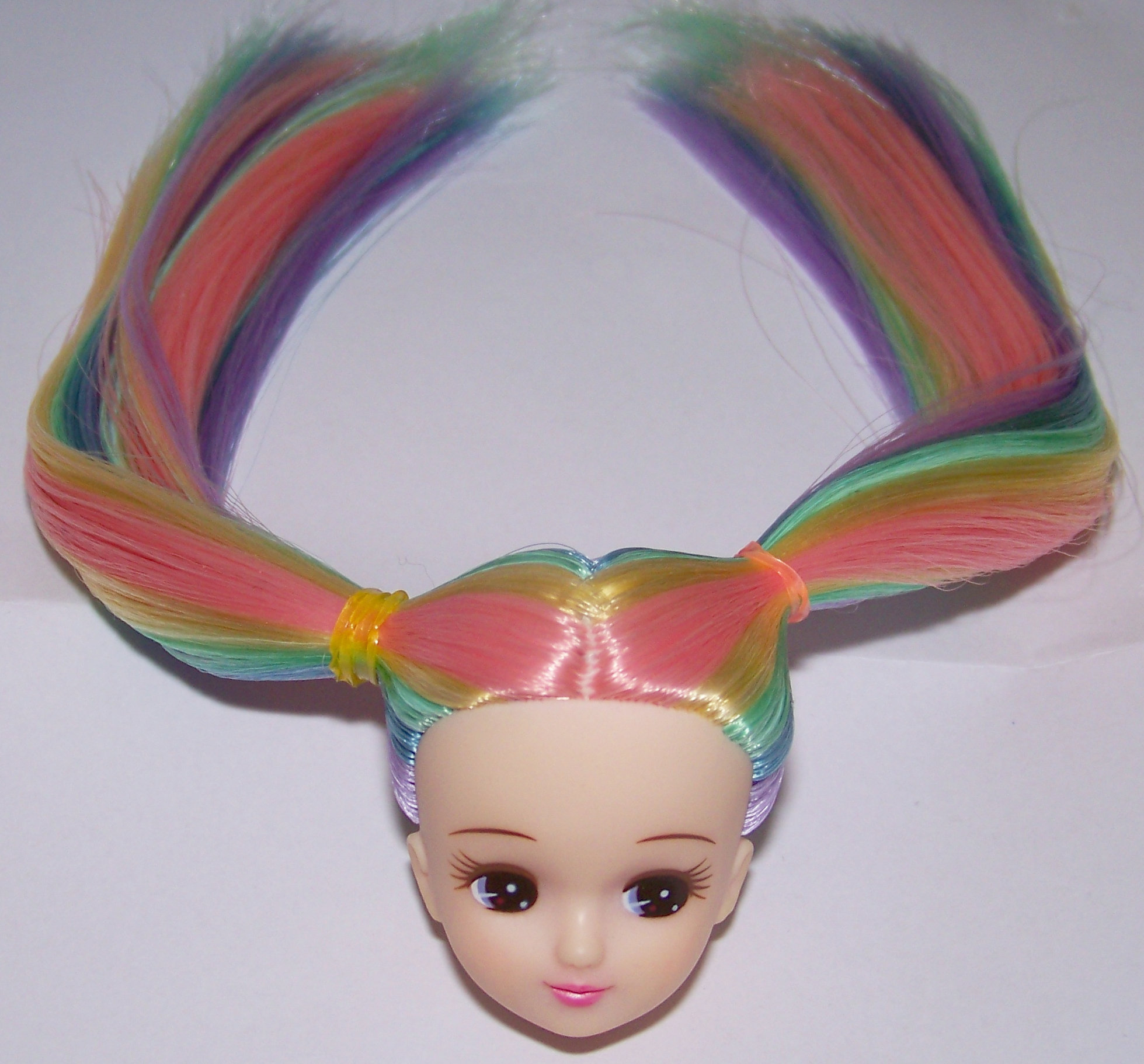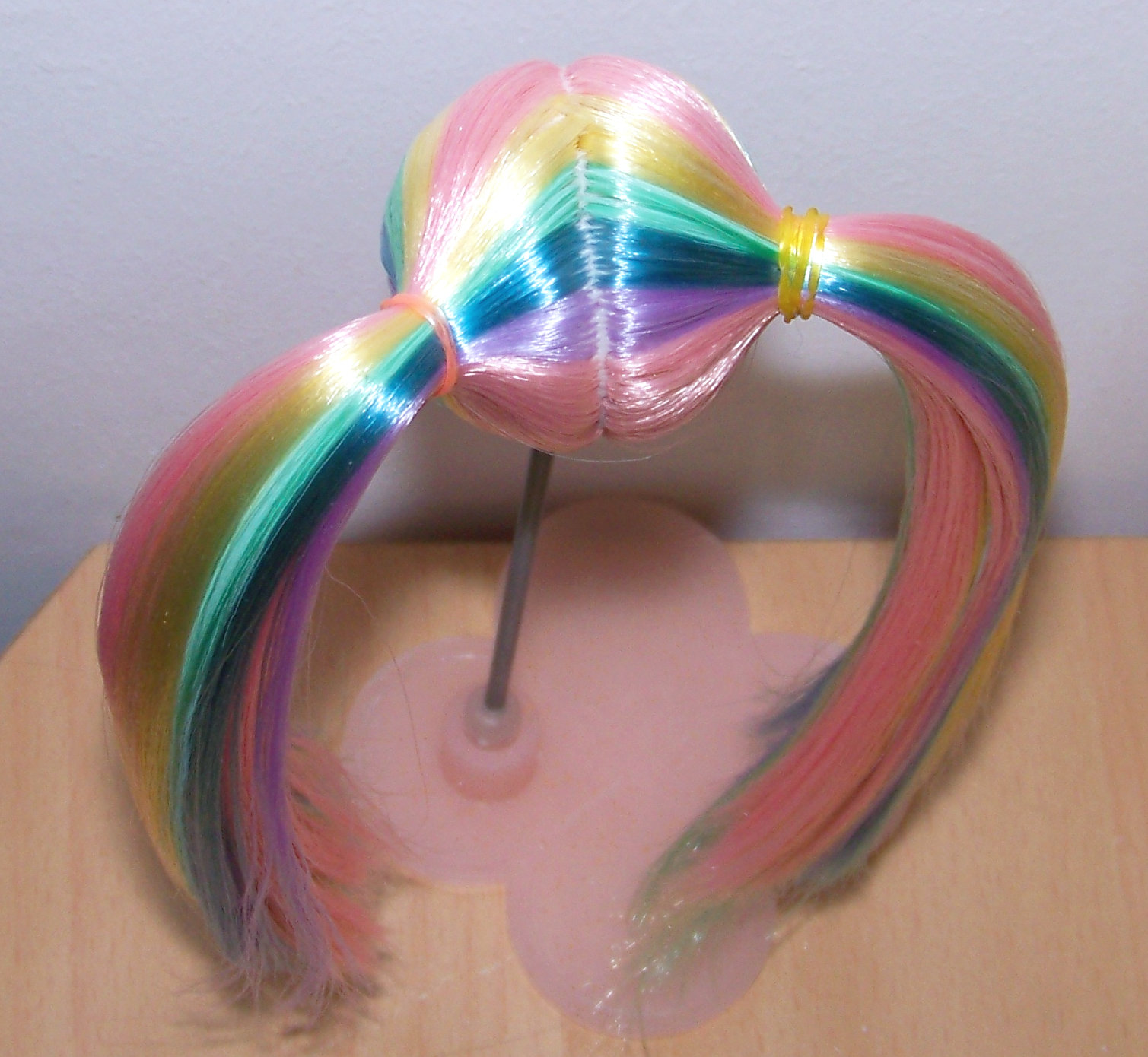 1/ First I sew the hem on the fur fabric as this will need to be brought forwards for choppy or patchier areas. Remember to mark the direction of the fur pile on your fabric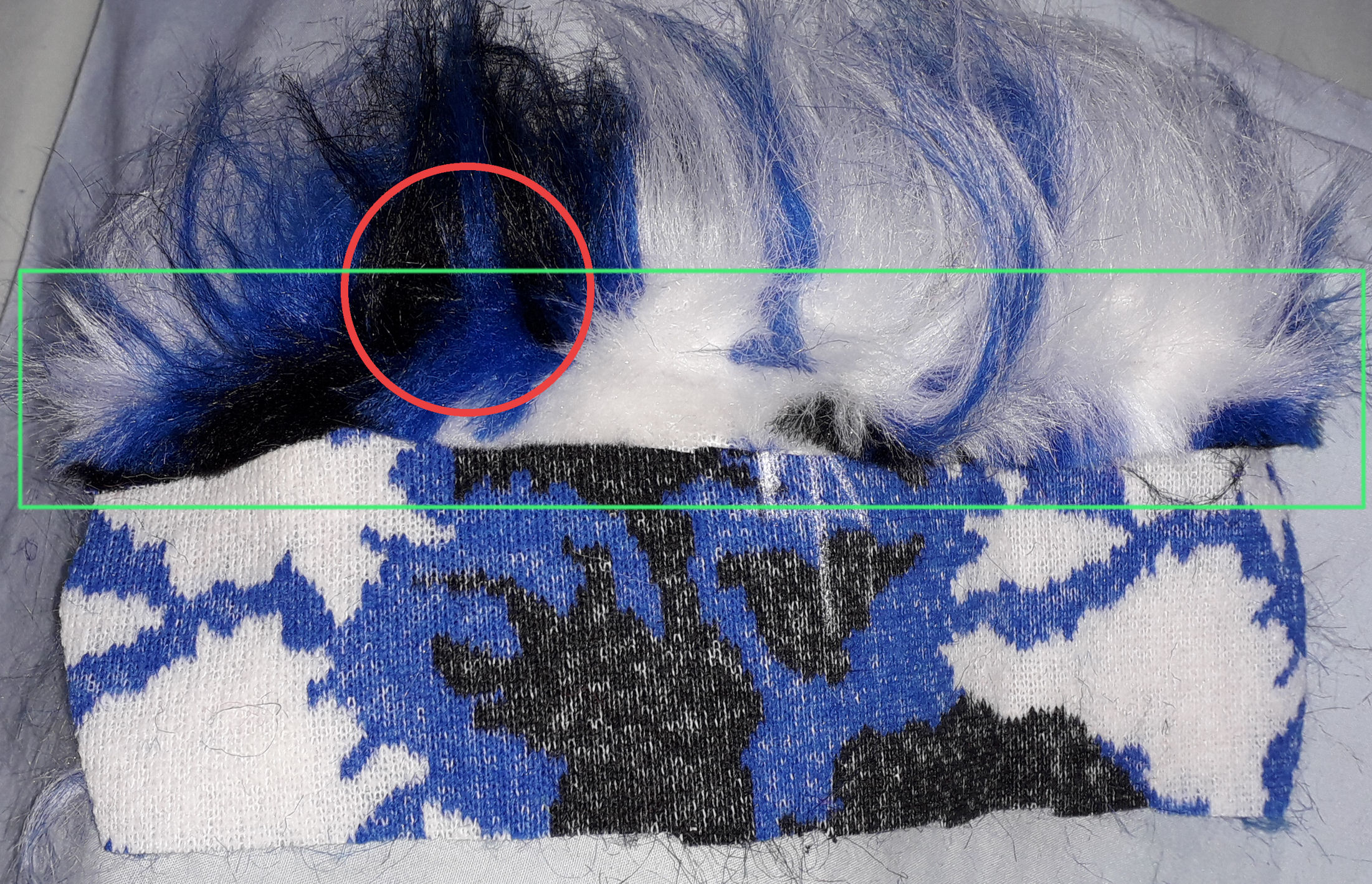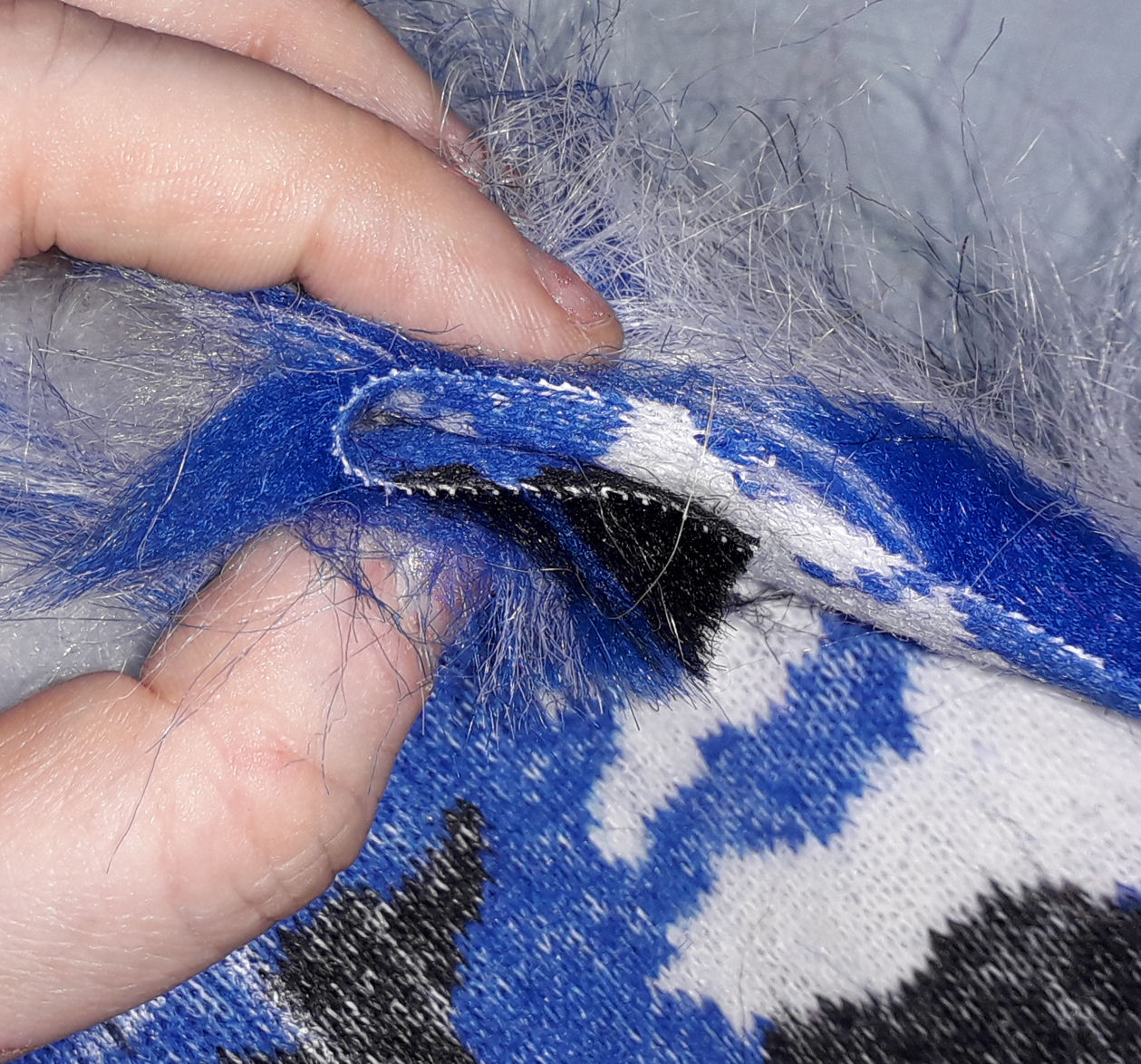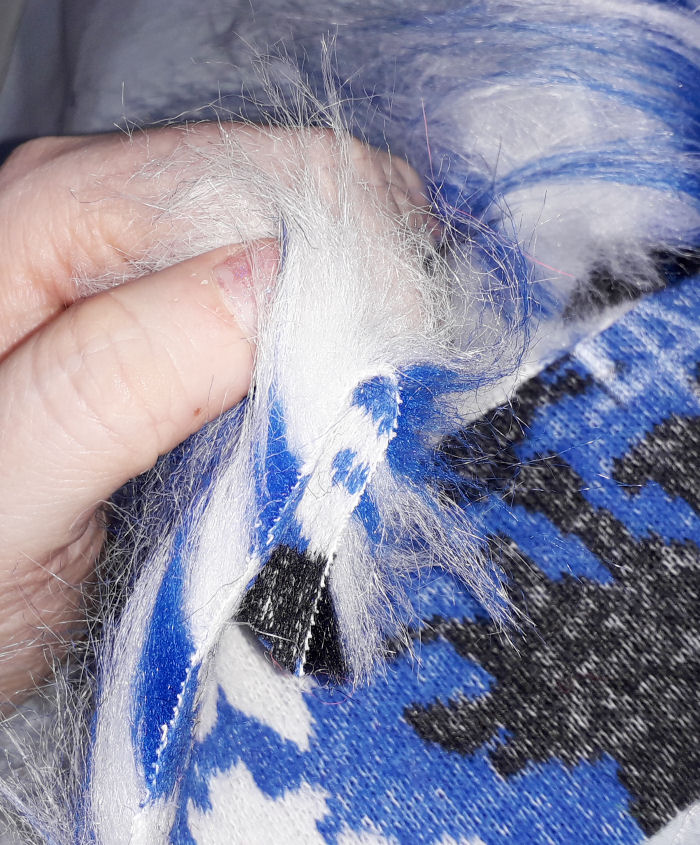 2/ Then I place the wig template just above the line of hem stiches, trace and cut out the wigs with tiny scissors and trim the hem as it'll be wiggly.



3/ Then each wig is assembled inside out and loosely basted; with a clip or a stitch tucking the fibre inside the wig so that you can sew without too much stray fur getting into your thread which causes knots and mess.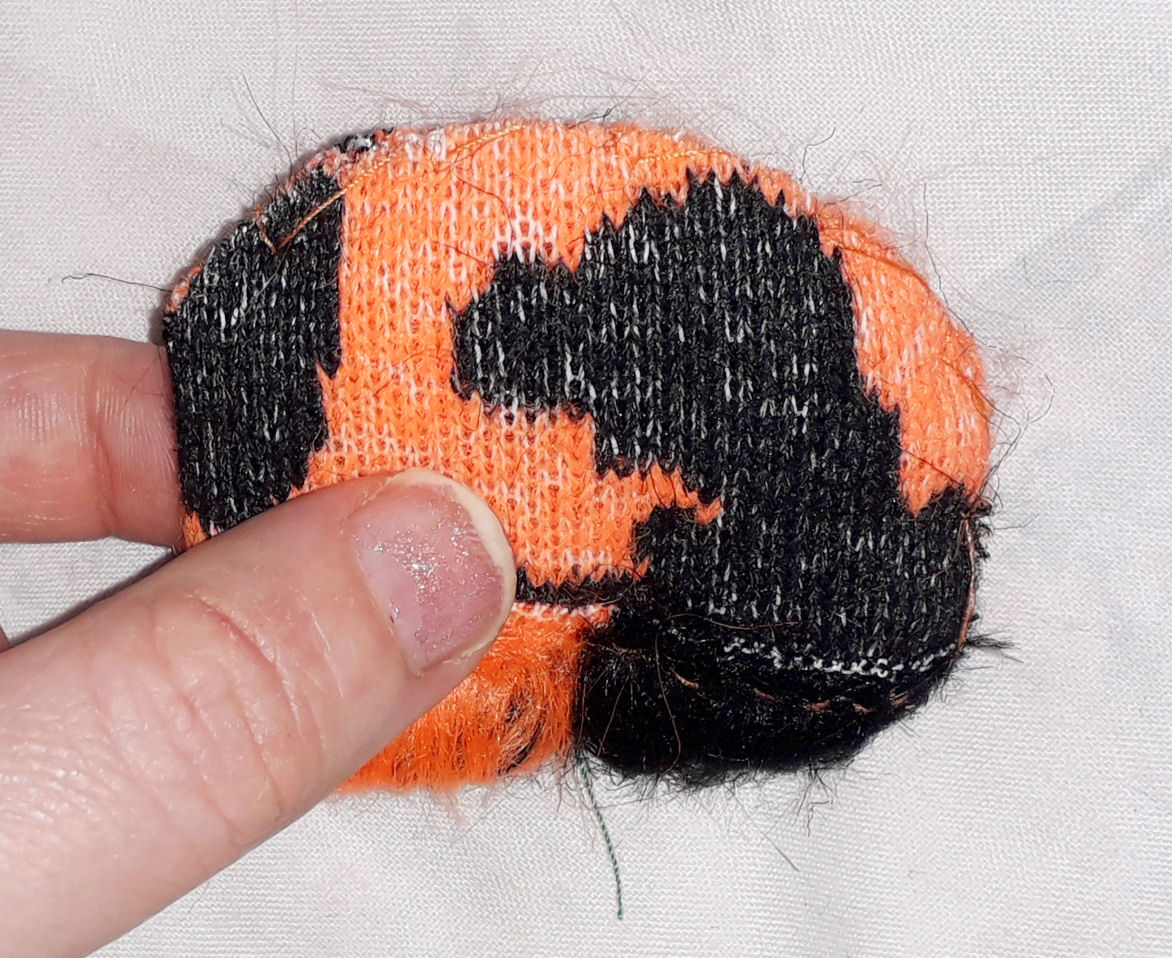 4/ Sewing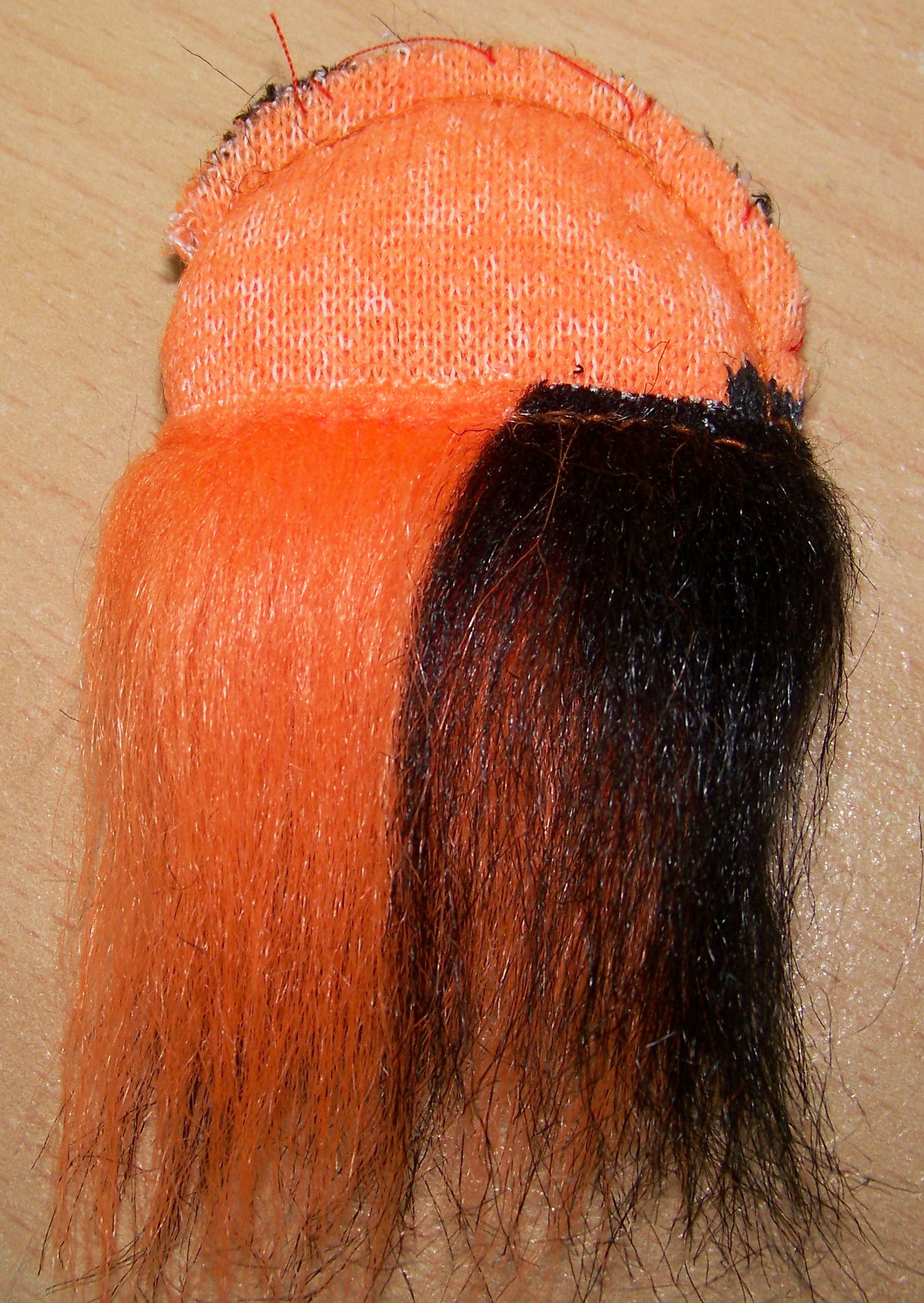 5/ Finally each wig is brushed to remove excess fur and any caught in the hem stitching and tested on Batsy (a bald Monster High with big ears) to see if the parting has thin areas and fits over her ears fully and still matches her front line of hair – if not it's put aside to be resized for a smaller doll. I figure people can always resize a wig to be smaller but it's best to err on the slightly larger side.
Notes:
faux fur can be flat ironed at 120°C or steamed using a clothes iron at a slight distance and brushed straight.
the process of working with small items made from faux fur is messy, you'll want to clean up regularly and make rolled up balls of stray fibres.
use sharp and very small scissors or use the razor method to cut your fur of you'll have choppy bits.
use a metal comb for brushing to avoid static, but nothing as dense as a flea comb or you'll lose too much fibre.
keep different colours and different stages of prepared wigs seperate in baggies to avoid fibres getting everywhere.
faux fur can be hand washed and I recommend it if your fabric is musty or needs conditioning with fabric sftener before ironing out kinks but it can lose it's starch which makes tracing and cutting a little trickier
use gloves or thimbles if hand sewing as you will get blisters from repetitive sewing through dense fabric

I bought these Midnight Magic dolls from Aliexpress in september and almost gave up on them but kept trying because well, glitter transparent bodies are awesome.
I had been carving the big spherical neck knobs by hand with a craft knife until they snapped, then I tried putting in classic anchor style doll neck knobs which caused the neck to crack open.
Attempt n°3 saw me get out the knock off dremel and it's cumbersome transformer to sand down the remnants of the neck knob until they were just 2-3mm wider than the neck, then squished the donut part of the anchor knob with pliers to be much thinner. E6000 is the glue used, you can tell because it gets very messy if you move stuff around before it dries. LOL.
The Cola one is much neater than the Sprite one as it was easier to see the edges and I'd got some practice on the first one.
---
The Cola one went  to Clawdia as it's a good colour match and she's already got bigger clothes (the MM dolls are "big sister" sized)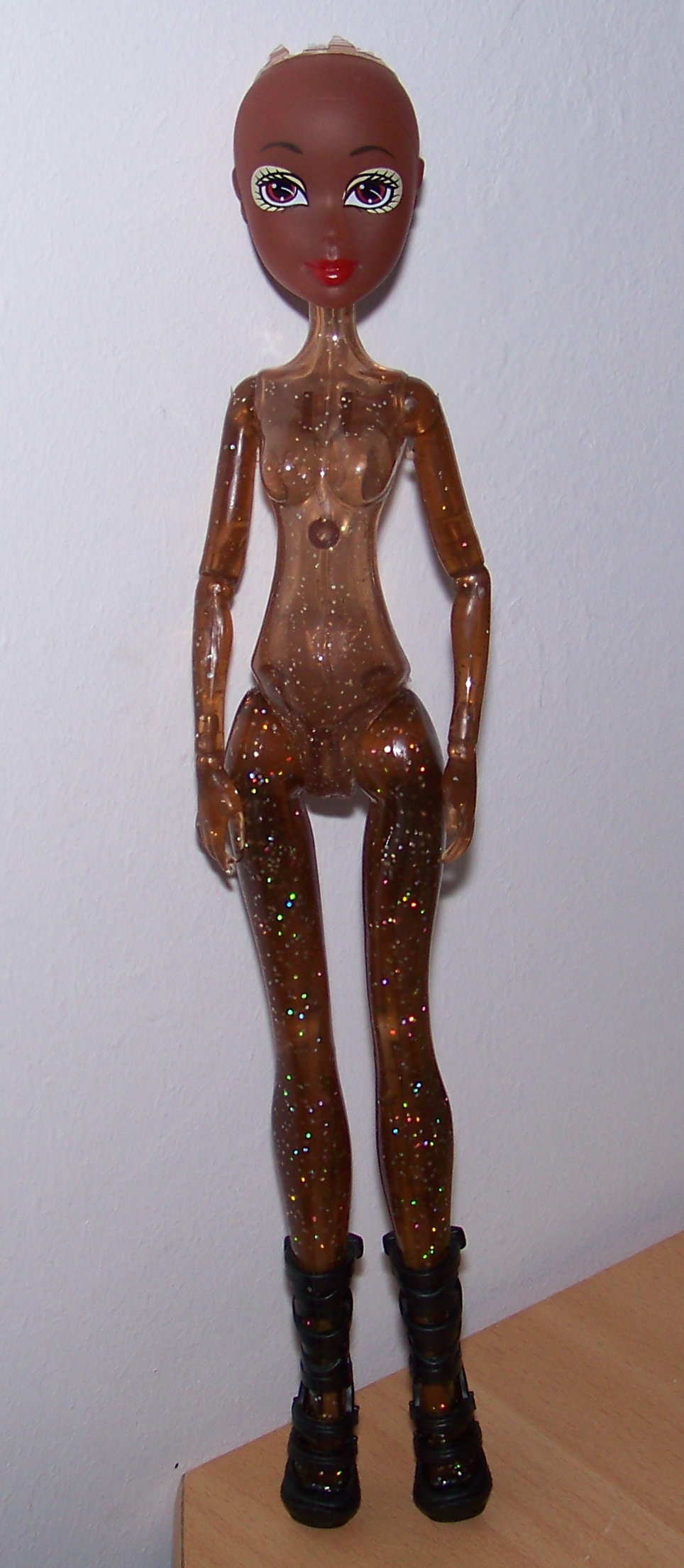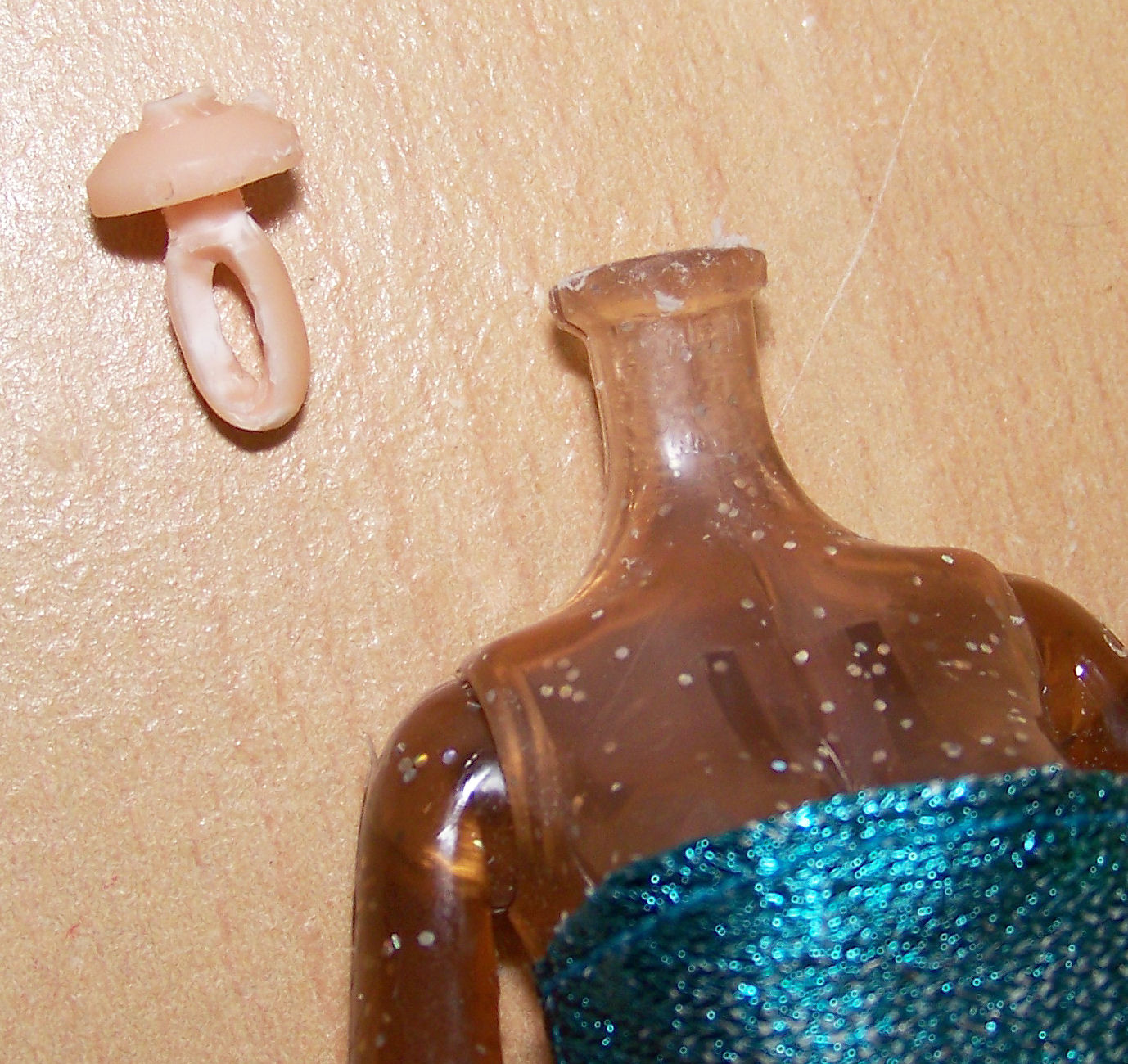 Sprite body went to a bald Ari head: