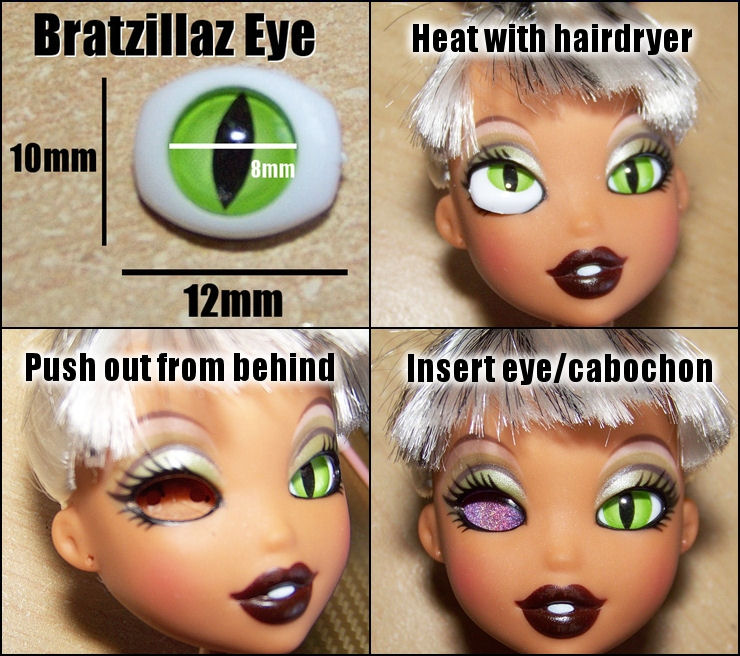 Quick tutorial on how to find eyes for your bratzillaz and swap them. I know this has been done before but I couldn't find the exact measurements for purchasing new eyes so here ya go!
The bratzillaz eye is 12mm long, 10mm wide with an 8mm iris (On ebay, this is how small doll eyes are often measured: in iris size).
The height/dome of the eye is about 6mm (half flat type eye) so you wouldn't be able to fit a spherical bead or spherical glass eye without cutting out the vinyl socket first.
Here I replaced Sashabella's eye with a circular glass cabochon of 12mm but flat (4mm).
* 12mm animal eyes ( used on a pullip) had too much dome height and did not fit.
* 10mm flatback half pearls fit but left a slight gap at the side.
How to::
Heat up the neck hole and remove the doll's head, then heat the eye with a hairdryer and
use a screwdriver orchopstick to push the eye out from the socket from inside the doll's head.
Heat the eye socket again before inserting the new eye to avoid tearing.